Rosemarie (Rose) O'Hara - Bio
This AKC Judge does All Obedience and Rally in Conformation and American Pit Bull Terriers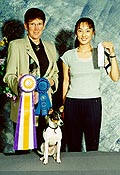 I began judging in 1990 for ASCA as an Obedience Judge in Novice and Open, and became a UKC Conformation Judge in 1993, a UKC Obedience Judge, all levels in 1995, adding on ASCA Utility Obedience that same year. In 2003, I began learning and playing the Rally-O game and became an APDT Rally-O Representative in 2004. In 2005, I started judging all levels of Rally for AKC.
I regularly exhibit my own dogs in ASCA, UKC, APDT and AKC in several sports: obedience, conformation, agility, herding and Rally.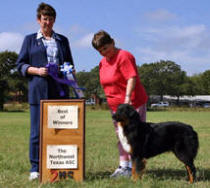 I began my competition life with Irish Setters in 1980, followed by Shelties, and now Australian Shepherds. My current dogs are 5 Australian Shepherds (3 generations), and one rescue Min Pin girl. I'm either an officer or on the board of several local dogs, and teach obedience, Rally and agility classes weekly year round. I'm a very firm believer in the Versatility Dog concept and all my Aussies were bred and selected with that concept in mind.
I am a conformation judge, but most people know me as a performance judge. That I can do both and still do both makes me an oddity today, but when I started out showing it wasn't such an odd thing to aspire to. Rosemarie "Rose" O'Hara
TheJudgesPlace.com EST 2005 © http://www.thejudgesplace.com/Meet-Dog-Show-Judges/O'Hara_Bio.asp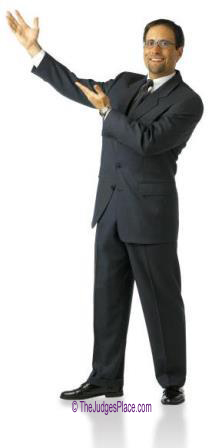 The Ring Steward says "Go back to Meet The Judges!" We invite you to read interviews with other prominent AKC judges and Judging Legends. As you attend shows this year, make mental notes about who you will nominate next year!
Courtesy NetPlaces Network, World's First Online Purebred Dog Information
The world's 1st public website (TheDogPlace.org) from Animal Health to Vaccines.
The world's 1st online dog news, (TheDogPress.com) from AKC records to zoological news.
The world's 1st site by/for dog show judges (TheJudgesPlace.com) educates on purebred dogs.