Meet The Judges
2003 Judging Legend Candidates and Results
Dozens of judges nominated their peers, expressing amazingly similar reasons for holding them in such high regard. The top five nominees were Michele Billings, Ann Rogers Clark, Melbourne T. Downing, Virginia Hampton, and Frank Sabella.
And the winner is... Michele Billings - click for Billings Interview!
Runner Up is ... Virginia Hampton
---
We selected comments that best summed up each Candidate.
Michele Billings: JUDGING LEGEND WINNER (Click for interview)
She's been there, knows how hard it is. Looks at the dogs. Jimmy A.

Makes this a classy sport.... looks and acts the part of a adjudicator. Love that you are doing this in a way that lets regular people vote! Mary M.

Gracious and fun lady, and can move through dogs (sorting/separating/judging) like a warm knife in butter! Jill M.

I have never met anyone more consistent. Just wish she did my breeds more often. Mike always has a kind word to each Junior she is judging. Chuck S.
Ann Rogers Clark:
I learned a lot from her and try to apply those lessons in my own rings. She knows everyone in the ring but tries to concentrate on what she knows about the breed first. Thanks for doing this in your website. It puts the credit where it belongs and it I think might bring attention to judges who are legends of a different sort.

I don't like spam but this caught my eye. I nominate Anne and think this is a good thing you are doing. I look for the results with interest.

She should have won. Edd is okay but doesn't have the years Annie has. I will watch this next election. At least we can see what is happening. Thanks, Jeannine T.
Melbourne T. Downing: (Click for interview)
I think he might be the oldest man judging and anyway, Mel's wisdom reflects his many years in the sport. Great guy. Carol S.

My favorite judge is Mel. Downing. I want to know what he has written about the many dogs I have shown him over the years! Carl M.

He does not say much but we all know to listen carefully when he tells us something. He knows more than anyone judging today. no sig.
Virginia Hampton: (RUNNER UP)
Have looked up to her for thirty years and because of her I decided to become a judge. More of us should base our decisions on caring and knowing about a breed. Then we can award our friends. Please don't give my name. (Okay we won't)

So quiet and gentle, wonderful starter judge for puppies. Her hands and her manner are so gentle. Karen S.

She's been there, done that, an owner handler can win under her and she just quietly goes along making up her own mind! Nobody tells her what to do. Barbara A.

A little hard to hear but easy to follow her decisions. Hope she wins. Harvey S.
Frank Sabella: (Click for interview)
Frank Sabella, probably the most beloved.

Would like to have known him 20 years ago. Bet he judged them just as well then. I find him kind and gentle and very knowing. Timothy T.

Moves effortlessly around the ring and through the standards to the right choice.

A man of many words and many talents. A favorite with us all. Karen T.

So down to earth and "frank" about his enjoyment and knowledge. Great guy. Jim B.
TheJudgesPlace.com EST 2005 © 2003 http://www.thejudgesplace.com/Meet-Dog-Show-Judges/Legend.2003.VOTE.Results.asp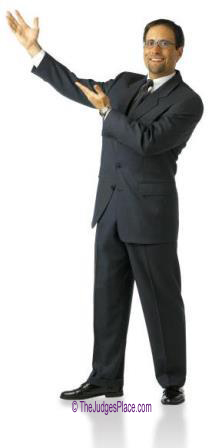 The Ring Steward says "Go back to Meet The Judges!" We invite you to read interviews with other prominent AKC judges and Judging Legends. As you attend shows this year, make mental notes about who you will nominate next year!
Courtesy NetPlaces Network, World's First Online Purebred Dog Information
The world's 1st public website (TheDogPlace.org) from Animal Health to Vaccines.
The world's 1st online dog news, (TheDogPress.com) from AKC records to zoological news.
The world's 1st site by/for dog show judges (TheJudgesPlace.com) educates on purebred dogs.