Mr. Frank T. Sabella
Judging Legend 2003 Nominee
As we look around ringside and note the vigor and health of elder judges, we should count our blessings that we are a part of showing dogs. There's much we can learn from those senior judges who remain involved and engaged. Dogs do keep us healthy!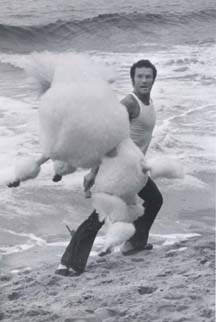 Photo by Phyllis O'Reilly, courtesy of Kennel Review Magazine.
Mr. Sabella was hard to catch. He was out of the country for nearly two weeks on judging assignments. He does not have email but was kind enough to return our call and grant the request of so many of you who nominated him in the Judging Legend Category. You will find he's a man of few words but having been to one of his seminars, I can tell you he is a dog master and able to convey intangible ideas.
Frank is already a Living Legend, not just to Poodle people the world over, but to all students of dogs and their presentation. Few people are as physically graceful yet deliberate in methodology while judging. When he judged the Group at Westminster, he wowed spectators at home and at ringside while never detracting from the dogs he so obviously enjoyed. His magnetic presence may be attributed to training as a dancer.
His artistic flair is also evident in a demand for beauty, style, and breed type. Many will remember the Tournament Of Champions held in Detroit. It was the brainchild of Richard Beauchamp and the glamorous evening competition was made even more dramatic by Frank Sabella's attention to detail, including the Tulip centerpiece (imported from Holland!) on each beautifully laid table. 
He responded to this interview while in flight to a show. It is much too brief because he has so much to impart and we'll try to catch him (on the ground) soon. In the meantime, we thank Frank for giving us this small glimpse into a fascinating personage.
What was your first breed? First show dog?
My first breed was a black standard poodle bitch and she was also my first show dog. She completed her championship being shown by Ann Rogers Clark. She was later bred and produced three champions. As I was a dancer in those days, she was only bred twice.
Were you a ii Pro Handlers and which dogs did you most enjoy showing?
I assume you mean which dogs did I most enjoy when I was a professional handler. If so, it was definitely Ch. Tranchant Annabelle and Ch. Tedwin's Top Billing. Both were Miniature Poodles.
When and why did you decide to become a judge?
It seemed the natural order of things when I retired as a handler after going BIS at the Westminster K.C.
Are you online and if so, do you find the internet useful?
I am completely computer illiterate.
Do You think the sport is better today than it was ten years ago?
Oh, the sport is better today.
What about the dogs? Better than 10 years ago?
I would say some are the same, some are worse. Very few are better. The real changes are the numbers.
Does the commercialization of the sport bother you?
I don't think so. Look at how many people are more aware about dog shows because of the large number of people that watch. The ratings on T.V. are tremendous. Look at all the people that watched the AKC-Eukanuba American Dog Classic and Westminster.
Are foreign assignments of interest to you?
Many times I have judged in England, Germany, Italy, Australia, Finland, Norway, Brazil, Argentina, Sweden and Japan. My two favorite places to judge are Sweden and Japan. Sweden because the dogs are so good and I love their system of critiquing and grading every dog.
Are you nervous or excited about so many new breeds being admitted?
I don't have an opinion either way.
Are you bothered by flamboyant clothing or behavior in the ring?
I don't really notice. The thing that really bothers me because it's an insult to my intelligence is when an exhibitor tries to sell me parts of their dog, particularly when that's where their dogs are not good.
Which do you rely more on, visual or manual examination?
Both. The visual attracts me to a dog and the manual confirms what my eye has seen.
When you first look down the line, what draws your eye?
Balance and Proportion.
Should showmanship and presentation be considered?
Showmanship and presentation are very important to me because I was a handler. But it would never be the deciding factor between a good dog and a mediocre one.
Do you plan to apply for new breeds?
No.
Do you learn more from personal talks with breeders or from seminars?
Here again, it depends on the breeder and it depends on the seminar and who is giving it. You have to be very selective about where you get your information. Billy Kendrick's was one of my best mentors and most of the information I got from him was on a social basis.
Mr. Sabella, what do you most enjoy about judging?
Seeing a good dog.
What advice would you give to today's new judges?
Go slow - It's better to judge one breed well than do several badly.
Approved for: All Toy Breeds, All Non-Sporting Breeds, All Setters, Span-Cocker, Span-Eng. Cocker, Span-Eng Spr, Hound Group, Afghan, Basenji, Basset, Bgle, B&T Coonhound, Bloodhnt, Borz, Dach, Am Foxhound, Eng Foxh, Greyhnd, Harr, Ibizan, Ir Wolf, Nor Elk, Otter, PBGV, Pharoah, Ridgeback, Saluki, ScotDeer, Whip, Boxer, Dobe, Giant Schn, Grt Dane, Std Schn, Terrier Group, Airdle, Am Staff, Austr, Bdlgton, Border, Bull Ter. Cairn, Dandie, Fox Ter, Irish Ter, Jack Russell, Kerry Lakeie, Std Manch, Mini Bull, Min Schn, Norfolk, Norwich, Scotti, Sealym, Skye, SC Wheaton, Staf Bull, Welsh, Wst Highland, WC-Card, WC-Pemb, JS, Groups 2, 4, 5, 6.
http://www.thejudgesplace.com/Meet-Dog-Show-Judges/Sabella-Frank.asp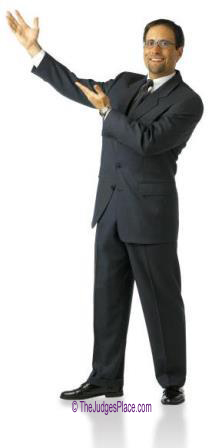 The Ring Steward says "Go back to Meet The Judges!" We invite you to read interviews with other prominent AKC judges and Judging Legends. As you attend shows this year, make mental notes about who you will nominate next year!
Courtesy NetPlaces Network, World's First Online Purebred Dog Information
The world's 1st public website (TheDogPlace.org) from Animal Health to Vaccines.
The world's 1st online dog news, (TheDogPress.com) from AKC records to zoological news.
The world's 1st site by/for dog show judges (TheJudgesPlace.com) educates on purebred dogs.