VETERANS CLASS JUDGING
E. "Katie" Gammill, AKC Judge, Showring Editor - 1991
Multi-Group Judge (Hound, Herding, Working, Toy) shares center ring view of this most SPECIAL dog show class filled with emotion, memories and canine grandeur.
It was the old ones that touched my heart
And brought a tear to my eye.
A lump formed deep in my throat
As in splendor they flew by.
Sweet faces smiled and ears pinned back
All heads were high and proud
To cavort and bark for a master's whim
They charmed an applauding crowd.
The glorious coat that comes with age
Glistened and shined with care.
Some eyes were dim, some muzzles white
A tooth missing here and there.
I find this class the hardest to judge.
Each one better than the last.
All veterans of so many great wins and
Reminders of a glorious past.
Once exhibited in their prime
Tonight they'll curl up tight and sleep
Upon our laps and in our beds
As they dream of liver treats.
Though I've placed them one through four
In all honesty I feel they know
We give them all awards of blue and
Each one is Best In Show.
We catch our breath and swallow hard
Not a dry eye in the crowd.
Take 'em around and bless their hearts!
These Veteran Dogs do us proud!
Related Katie Gammill Articles and Other Information:
Old Dog's Secret ~ When Judging Time Runs Out ~ Breed Standard With A Twist!
TheJudgesPlace.com EST 2005 © 1906 http://www.thejudgesplace.com/Judges-view/veteran-class-judging-k19G06.asp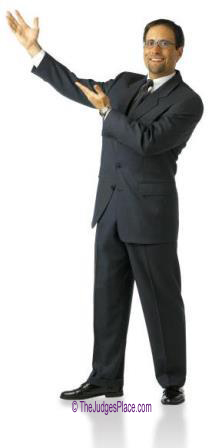 The Ring Steward says "Go back to a Judges View From The Center Ring!" We invite you to learn how the Judges view the sport and the dogs. Dog Show Judges share their judging expertise, backgrounds, and opinions in exclusive interviews and comments.
Courtesy NetPlaces Network, World's First Online Purebred Dog Information
The world's 1st public website (TheDogPlace.org) from Animal Health to Vaccines.
The world's 1st online dog news, (TheDogPress.com) from AKC records to zoological news.
The world's 1st site by/for dog show judges (TheJudgesPlace.com) educates on purebred dogs.