DOG SHOW DECORUM
E. Katie Gammill AKC Judge, Showring Editor
The major is broken because that "someone" appeared at ringside. Since the judge seems to favor this person, disregarding the quality and grooming on the dog, people choose to walk away.
Did it ever occur to anyone the reason the judge puts this person up is because THEY SHOW UP AND YOU DON'T? A judge cannot take other dogs into consideration for winners if they simply don't appear.
Sharon Clark & Beagle, The Vanderpools & ChiChi, Alex Maldon & SFT
Is our competitive spirit and ringside decorum taking a nose-dive? Bumping a dog up to Specials Class without consulting other exhibitors often breaks a major in one or both sexes. A ringside discussion could prove those entered would like to take their chances of beating your dog rather than breaking the major. Our old theory was "Get that dog finished so we can get on with it" but is it a sport if you only enter when you can win? Have you driven hours to find others simply don't pick up because they "thought" the major was broken due to late pick up of armbands?
We all know dogs have "on and off" days. Doesn't tearing a good dog down defeat the purpose of the sport? We need good dogs to produce superior breeding programs. Gossip has destroyed many a reputable kennel and a lot of good dogs were ignored due to "word of mouth suggestions" without proof. What one person encounters another may not. Remember, both bitch and dog are involved in a breeding and genes come from BOTH directions.
Too many people are defeated before entering the ring because they refuse to groom properly, don't understand ringside protocol or fail to adhere to good techniques used by others. Of course, some judges will find these "natural" good dogs but more often or not, they are "outshined" by equally as nice of dogs that are presented properly. Some exhibitors are inept at handling and show the judge every fault the dog has.
It's easier to blame it on the judge who appears to award certain people instead of admitting those people are the ones most often present in the ring. Many today are impressed with big winners but do they know a good dog when they go over it? Not necessarily, they may be taking a record or someone else's word for the quality of the dog. Understanding a standard and doing your homework regarding form and function is vital for your next dog show.
If someone allows you to examine their dog, kindly see it in a positive light and leave the negative impressions in your mind for later consideration. If this person insists their dog is exceptional when you know it isn't, forget it. Remember proper decorum and common sense. Do not argue with an idiot. They will drag you down to their level.
Is that Rod Thomas with the Shar-Pei?, Linda Rowell (Pugs) & friend, Stephanie Hedgepath & Corgi.
The best way to learn is through experience. An exhibitor showing up late for their class has little right to criticize the judge who stays on time. Frankly, missing a class is one way to understand the importance of ring schedules. Be aware of the number of dogs ahead of your breed and watch ringside carefully as some entries may not show. If this is the case, time will go as quickly as a major!
Another important factor is picking up armbands. Approaching the ring steward, don't ask "May I see your catalog?" Know your class and number and give it to the steward to cut down on confusion. This saves time in case others are trying to be present in more than one ring. It's especially important for Junior Handlers as they are the future of the sport. Professional handlers know the classes, breeds and numbers needed when they pick up. This is a courtesy to the other exhibitors, the ring steward, and the judge. If you have a bitch in season, don't' stand at the gate during male classes and be courteous enough to have someone hold her when you approach the ring steward's table for your number.
If you enter, SHOW YOUR DOG! How can one expect others to return the favor if you don't participate?
We have an entitlement mind set today and many have never been on the losing end of anything. By teaching our children they are all "winners", we have created a bunch of "poor losers". If you can't lose at a dog show, life's going to be tough... Those who assume they are special will soon find the word is full of "special" people.
Same with dogs. If a dog has a winning record, research it. Perhaps looking into the judges who awarded the dogs their wins would tell a story of its own. Perhaps checking out the successful offspring would assist in true evaluation of that top winner.
If you don't win, be kind and congratulate the winner. Sharing a win is ever so much sweeter. Consideration is important, whether you are an exhibitor, an observer, or a judge. Sincerity when complimenting (even though you might wish they were home), adds to the sport and makes the winner feel they were in the right place at the right time. Perhaps next time it will be YOU!
TheJudgesPlace.com EST 2005 © Jan 2018 http://www.thejudgesplace.com/Judges-view/dog-show-decorum-by-judge-gammill.asp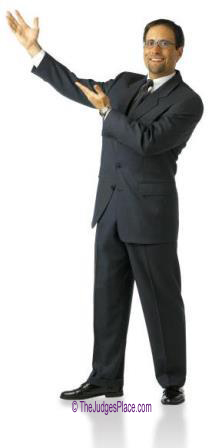 The Ring Steward says "Go back to a Judges View From The Center Ring!" We invite you to learn how the Judges view the sport and the dogs. Dog Show Judges share their judging expertise, backgrounds, and opinions in exclusive interviews and comments.
Courtesy NetPlaces Network, World's First Online Purebred Dog Information
The world's 1st public website (TheDogPlace.org) from Animal Health to Vaccines.
The world's 1st online dog news, (TheDogPress.com) from AKC records to zoological news.
The world's 1st site by/for dog show judges (TheJudgesPlace.com) educates on purebred dogs.