What Judges Expect Of Exhibitors
by Dan Crutchfield, NCA & UKC Judge, Inspector and Breeder
We all know what we expect from a judge. Professionalism, honesty, courtesy. Let us consider the other side of the coin. What should judges expect from exhibitors?
Here are the things I find necessary for one to be considered a GREAT exhibitor:
Present a good specimen of the breed, properly trained, and socialized. Bring your dog into the ring clean and groomed appropriately for the breed it represents. It is most displeasing to be presented matted, foul smelling dogs with urine stains, or dirty teeth.
Socialize your dog! It is understandable that puppies might be jumpy and nervous and I always find the time to work with young dogs to make the show a positive experience for them. It is the adult dogs that shy or run from a judge that makes the day difficult, and can be downright risky for a judge. Rarely will a puppy bite you, but scared adults are another story.
POTTY your dog BEFORE you are to go into the ring.
Be appropriately dressed to show the dog to its best. Be clean, neat and presentable in the ring. Help your dog to not "blend in" to what you are wearing. A male judge can be compromised by the exhibitor's mode of dress. If a female wears clothes that are revealing, short or immodest and then by chance has the best dog, the judge may be compromised by awarding that dog with a win. Dress nicely but not as if it were a fashion show, wear comfortable, nice looking shoes appropriate for running. Dress modestly, the dog should be the focal point, not you.
Be familiar with the judging pattern. Every exhibitor should try to spend some time ringside prior to their breed's judging to become familiar with the judge's pattern. That small courtesy can make the judge's day move so much more smoothly. Find out before entering the ring if the judge allows bait, toys or squeekers. And, my pet peeve, NO CELL PHONES in the ring!
Just as you want judges to treat you politely, they deserve the same consideration. You should be attentive to your dog and to the Judge. If you do not hear a judge's directions, politely ask that they be repeated. Do not just glare at the judge. Say "thank you" when you leave the ring - even if you did not make the cut or were excused. This can make a judge's day so much more pleasant.
Accept the Judge's opinion. No matter what your private thoughts may be, accept the placements with a sincere "thank you", after all, by making an entry you are asking for the judge's opinion.
If you ask questions, be ready to accept the judge's opinion. Do not argue, become contentious or angry when the judge points out things you missed or did not know about your dog. Understand that the standard, though objective, is subjective in interpretation. If the Judge points out something you may or may not agree with about your dog, right now is probably NOT the correct time to discuss it further. What one judge likes, another may not.
And if you feel there was a grievous error, or that the judge really did not know the breed at all, then take it up in a professional manner, as opposed to being a jerk and yelling and badmouthing. Have fun and understand that there is always another dog show!
Be courteous to the stewards. An Exhibitor should be ringside, WITH THEIR DOG, ready to walk in the ring when the steward calls them, so that they are not wasting time waiting for you to run and get your dog, thus holding up the judging schedule. If you are late, accept that you may not be allowed to show. If you have a ring conflict, do not expect to be accommodated as if it were your right. You should know that it is up to the judge's discretion whether or not to hold up the class for you. Abide by what he/she says.
Wait to receive your ribbon in the ring, line up according to your placement, help yourself and your Judge by making sure you have the proper armband and dog, and that they have written your proper win on the Judges sheet.
The judge does not need to know and is not interested in what the exhibit before him/her has won recently-save your breath-he/she will not be impressed. Do not sit outside the ring and make distracting noises or loud comments to try and sway the judge. When in the ring, you should not be carrying on a conversation with other exhibitors in or out of the ring.
Be a sportsman, congratulate others when they win. If you win, do not be haughty or prideful, accept congratulations humbly.
Do not crowd other exhibitors when gaiting as a group. Do not play with your dog when the judge is going over another dog! Keep other dogs, food, and screaming kids away from ringside.
Know the rules. It is an unpleasant task to disqualify an exhibitor who claims "no one told me that". A copy of the rules can be obtained from UKC at any time.
MOST IMPORTANTLY, have fun, meet new people, make new friends, and enjoy the day.
Dan Crutchfield, alpha@bontempskennels.com
UKC Conformation Judge & UKC Inspector for the NAPBTA
NCA Conformation Judge
President- Mississippi State American Pit Bull Terrier Club
TheJudgesPlace.com EST 2005 © http://www.thejudgesplace.com/Judges-view/Judges-Expect_Crutchfield.asp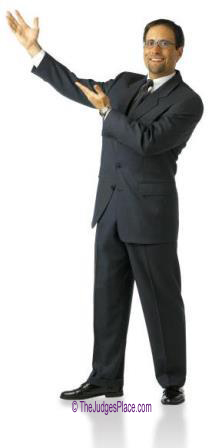 The Ring Steward says "Go back to a Judges View From The Center Ring!" We invite you to learn how the Judges view the sport and the dogs. Dog Show Judges share their judging expertise, backgrounds, and opinions in exclusive interviews and comments.
Courtesy NetPlaces Network, World's First Online Purebred Dog Information
The world's 1st public website (TheDogPlace.org) from Animal Health to Vaccines.
The world's 1st online dog news, (TheDogPress.com) from AKC records to zoological news.
The world's 1st site by/for dog show judges (TheJudgesPlace.com) educates on purebred dogs.