Day 2, 20th ACEF Judges' Institute, 2008
American Canine Education Foundation Judges Institute was the brainchild of Lt. Col. Wallace H. Pede, co-founder, and All-breed judge Melbourne Downing, of the SCJA (Senior Conformation Judges Assoc.) which was the first AKC Judges' Association. It was a busy six-day event, from registration and get-acquainted to the first lecture, to the lavish lunch buffet, then afternoon breaks where some judges visited the slots, ending with the sumptuous, entertaining Graduation Banquet.
Click to enlarge thumbnail photos, opens in a window, mobile device, click back button
If you missed Part One, Click Here to go back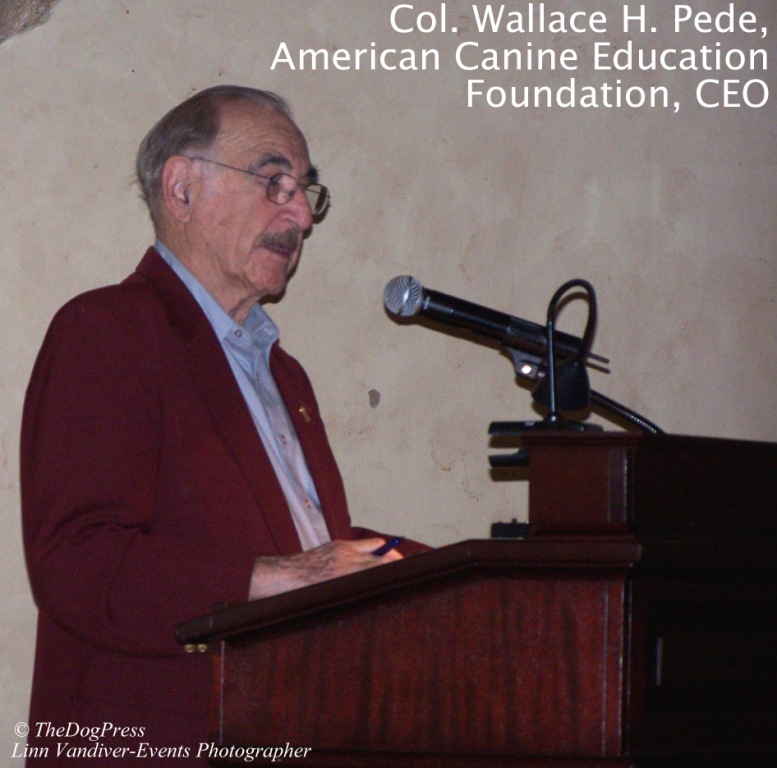 ACEF CEO Col. Wallace H. Pede revealed his simple but effective system of scoring each dog. It was a "duh!" moment for those hearing it for the first time. It assures consistency and incredible recall of virtues and faults when judging Winner's classes and large Specials classes. Laughing, he told us he developed his system after a peek at legendary All Breed Judge Mel Downing's indecipherable "dots and dashes" method. There's more to that story but you'll just have to attend next year…

Several American Dog Breeders Association (ADBA) Board Members were present, including Patty Bullock and Hank Greenwood, who gave a heartfelt address regarding the onslaught of anti-dog legislation and what it means to all breeders and the future of dog shows and judging.

The many questions on Ring Management and Procedures, Examination, Weighing and Measuring were answered in a day-long session by attorney, judge, and ACEF Secretary Chris Abraham. He also fielded sensitive questions in his segment on Ethics. Chris' personable style kept everyone's attention in what could have been a tedious day of complexities.

The last day we learned about AKC Rules and Regs, including the nuts and bolts of the (formerly mysterious) Trial Board procedure and Bench Hearings, adroitly covered by James Crowley. Mr. Crowley joined AKC in 1971 and his deft management of many different departments led to appointment as AKC Executive Secretary in 1993. No one could be better suited to that weighty position for his instant recall and encyclopedic knowledge of AKC is nothing short of amazing! Like Mr. Abraham, he covered complex issues in a friendly, logical presentation that precluded all but a couple of questions which he answered fully and without hesitation.

Sitting next to Mr. Crowley at the banquet dinner had already made me "AKC friendly" (and drew raised eyebrows) but as the after-dinner speaker, his takeoff on "the mob" had everyone in stitches and humanized the AKC in the most delightful way imaginable. AKC has a big PR budget but if anyone else was capable of handling the immense responsibility of the Secretary's Office, AKC could just dismiss the PR firm and send James Crowley out to meet the public!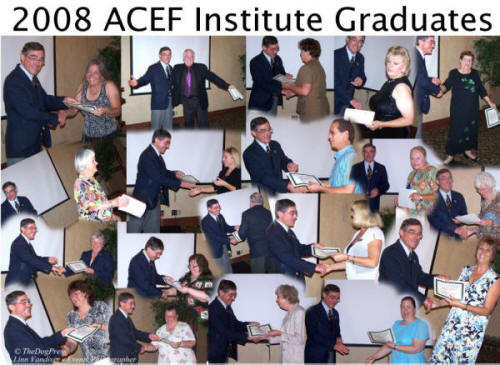 Colonel Pede summed it up in a tribute to AKC by reminding everyone that Jim Crowley has attended every Institute, representing 18 years of dedication to the judges and the sport!
The Colonel also thanked Poodle Breeder and Judge John Shoemaker for taking people back and forth to the airport, including one 5 A.M. trip! Many know Johnnie as a Bradshaw Superintendent, which explains why he was so helpful on technical questions regarding who does what at shows. John won the banquet award for most "magnetic" personality and had there been one for most accommodating, he'd have won that too. He even took a group to the fabulous Rolling Thunder show and my friend Fran Milteer, who has known Johnnie for years, said he was the perfect host and the best part of the show.
And then the best part, Mr. James Crowley presented the Certificate Of Completion to each graduate. Thanks to the clear presentation of subject matter and the subsequent study and discussion groups, there were no failures and in fact, one lady judge got 100% of both tests correct! Going up to get that certificate and a handshake from Mr. Crowley himself was an adrenaline rush for everyone and signaled the end of an exciting week.

Fittingly, the ceremonies were closed by Nina Sherrer, ACEF Education Director and Lynn Wendt, SCJA Administration. Those two ladies were everywhere but the work they did before the event is what made it so successful. Nina and Lynn moved attendees to tears as they thanked Colonel Pede for having created the SCJA and conceiving the ACEF. Lynn's comment that none of us would be there were it not for Wally hit home and voice cracking, she left it at that.
What more could anyone say?
TheJudgesPlace.com EST 2005 © 2008-1211 http://www.thejudgesplace.com/Judges-education/ACEF-Judges-Institute-Day2-2008.asp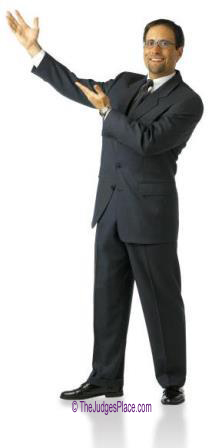 The Ring Steward says "Go back to the Judges Education Section!" We invite Judges to learn from more than a Seminar providing approved judging seminars with photographic examples of movement, structure, and breed type plus breed mentors to assist by email or phone.
Courtesy NetPlaces Network, World's First Online Purebred Dog Information
The world's 1st public website (TheDogPlace.org) from Animal Health to Vaccines.
The world's 1st online dog news, (TheDogPress.com) from AKC records to zoological news.
The world's 1st site by/for dog show judges (TheJudgesPlace.com) educates on purebred dogs.