Beverly Bonadonna Vics
Interview conducted by Barbara J. Andrews - September 2009
Meet AKC Judge Beverly Bonadonna Vics. Mrs. Vics is presently approved to judge all Working breeds, plus Havanese, Bulldogs, Shar-Pei, Dalmations, Shiba Inu, Australian Shepherds, JS, Best In Show and Working Group.
What does she look for as a judge? Which is more important, type or movement? What handler tricks bug her and how important is grooming? What you need to know when entering under this top breeder-judge. We think you'll agree, Beverly Vics is a "good judge" destined to be a "great judge."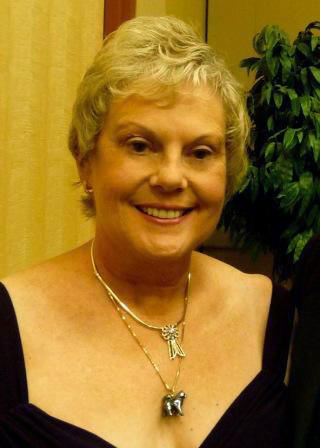 WHAT WAS YOUR FIRST BREED? AND FIRST SHOWDOG?
My first breed was a GSD from my mother-in-law's pet. My first KC breed that brought me to involvement in the sport of purebred dogs was an Alaskan Malamute, Nanook. I bought him from a pet shop. I did show him, in a Northern Breed Specialty fun match in NJ. He was DQ'd for being monorchid. The judge said he was a very nice Malamute but had only one testicle, so I couldn't show him. I then proceeded to find me a REAL breeder!! The first dog I ever showed for points was Alaskan Malamute (later CH) N Bar J's Lady Gwenevier of TOBE.
[photo 1] I took my first 2 points at my first show under J. D. Jones. My knees were shaking I was so nervous.
WERE YOU EVER A PROFESSIONAL HANDLER?
Yea... for about 3 minutes, LOL I tried professional handling because I LOVED showing dogs. But after dealing with two or three clients, I quit showing for other people. I'd tell them "Don't feed the dog if he sits down", simple? yes? NO!! They'd bring me the dog, he would see bait and plant his butt solidly on the ground. I gave that up real quick!! Loved the dogs; could NOT deal with the owners.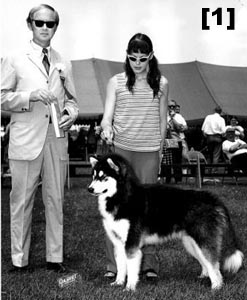 WHICH DOG DID YOU MOST ENJOY SHOWING AND WHY?
That's a hard question. I loved showing ALL the dogs. Most of all I loved winning!! So the dogs that won the most were, logically, the ones I enjoyed showing the most. My first special, sired by Sachmo, Ch TOBE's Peking Jumbo, CD might be the one I remember best. He was my FIRST real top winning dog. He holds a special place in my heart. My first Group placement was a GR I under John Patterson with Jumbo. I remember it like it was yesterday... What a thrill. Jumbo had qualified for his first leg on his CD that same day and I have to tell you, when I jumped out of the van that morning, I jumped right into a pile of guess what? So the saying "you must have stepped in it!!" YES I DID!! That was over 40 years ago.
WHICH DOG WAS YOUR TOP RECORD HOLDER?
My top record holder was, as most people know, Ch TOBE's Return of the Jedai, a.k.a. Ben, [photo 3] shown below winning under judge Mel Downing. He won 27 all breed bests in show, countless Groups and Breeds. Back then, that was the record for all-breed bests for an Akita. I owner/handled most of my dogs, and I owner/handled Ben to his first three all-breed Bests. Then handed him off to a professional handler to campaign.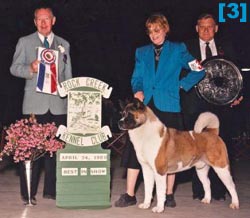 I could not show him in as many shows as was needed to really rank a dog. Ben also still holds the record for Bests-of-Breed at the very prestigious Westminster KC – 8 in a row... [Photo 4] Ch BIS-BISS TOBE's Return of the Jedai gaiting at Westminster is shown below. He was also owner/handled to his first 3 BOB wins at Westminster KC.
WHEN, AND WHY DID YOU DECIDE TO BECOME A JUDGE?
I believe it is a natural progression to go from breeding; successful breeding, on to judging. When Ben was getting older, I knew I'd never take that ride again, so I wanted to move on to bigger and better things. I knew from the first time I judged a match that I wanted to judge seriously. I absolutely love judging. I believe that breeds progress and grow from the "teamwork" between breeders, exhibitors and judges. Breeders breed TO winners; judges CREATE the winners. Breeders exhibit what they hope will WIN; judges choose the winners. However, on the other side, Judges can only give wins to the dogs that enter so if you, as a breeder/exhibitor want to direct the future of your breed, then show good, typey dogs. If judges can't find them, get into judges' education with your national breed club. Teach the judges what is and is not a good Bulldog, Akita, Malamute, etc. If you want judges to know your breed, teach them. We learn from what we see; we imprint on what we see over and over again. So if you want judges to give wins to good dogs, you have to enter them.
FOR WHICH BREEDS WERE YOU FIRST APPROVED?
In 1990 I was approved for Akitas and Alaskan Malamutes. I believe I am a very good judge. I hope to, some day, be a great judge. But I guess all judges believe that. My husband, John, likes to point out "If you are crazy, do you know you're crazy or do you think you are the sane one and the rest of the world is crazy?" I believe I'm a good judge because I have an "eye" for a good dog. I accept the responsibility to learn correct breed type for each breed I am approved to judge. I work to uphold that standard of excellence each time I walk in the ring to judge dogs. I truly believe that the best dog, in my opinion, should win whatever class is in front of me, and I do my absolute best to find him. I know I make mistakes, but I don't dwell on them and I learn from every one of them.
NAME TWO PEOPLE WHO INFLUENCED YOU THEN AND NOW?
THEN!! Sheila Balch was my role model. When I started showing Alaskan Mals, Sheila was the REALLY BIG winner!! She was what BJ Andrews became in later years. My first dog show (as a spectator) was Bronx Co KC, the week after the Garden (Westminster), circa 1967 maybe. Sheila had just the previous week, won the Garden with Wooly Bully. I thought my pet shop dog, Nanook, was just as nice as Wooley Bully, so I sought out how to show dogs with fervor! As years went on, Sheila consistently beat me. I wanted to be Sheila Balch..... I wanted to be a big winner. I watched handlers handle and I watched Sheila win!! The rest is history.
THEN!! John Mazzola. If you knew Sheila and John back then, you would know that they were polar opposites. Sheila HATED John Mazzola and his puppy mill, N-BAR-J Alaskan Malamutes. I bought my first 3 bitches and a dog from John. He sold me a whole breeding program, right there in the back seat of my 1965 Pontiac Tempest! Yes, John was a puppy mill... and I started out all wrong but I learned a lot from him. A bunch of us would sit around a campfire outside John's home/kennel and he would talk dogs! Breeding programs! Pedigrees! And the importance of building them!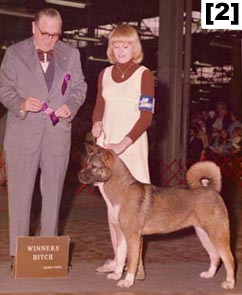 The rest of us would just listen. WOW! I learned sooo much about those things from him. He was such a knowledgeable dog man. When I later sought out an Akita foundation bitch... it was John's pontificating about pedigrees and breeding programs that influenced my choice of Ch Lijo's Spirit of TOBE [Photo 2] to be my foundation bitch. I picked her at one day old based on her perfectly inbred pedigree. She influenced the great dogs I later produced until the last generation of TOBE Akitas was gone. And today, I still see her influence in dogs that go back to TOBE dogs.
LATER- When I began judging, I got to know judges like Mel Downing. He was a REAL dog man, a GREAT judge! I had always shown to Mel because I believed he knew a good dog when he saw one and I believed him to be as honest as the day is long. Early in my judging days, I had the honor of stewarding for him. We chatted in our "off" time and he said to me "Always remember one thing, judge the dogs honestly. You will make mistakes, but you will learn from them and become a great judge. If you judge any other way, you'll never learn a damn thing." So, you exhibitors out there, if you think I made a mistake last week, know that I am a work in progress and I will get better at this judging thing!! I also learned from Estelle Cohen, Bunny Hyman and Ellie Rottman. For personal reasons, Estelle was my hero.
NOW, Jean Fournier. Jean is, today, my judging career role model. She is knowledgeable, honest, and respected for it - everything I aspire to be.
DO YOU STILL OWN OR BREED DOGS?
Yes, actually, I do. I own two Champion Havanese and my little bitch is due in two weeks to give me my first litter of puppies in almost 20 years! I am very excited!!
WHAT DO YOU DO IN YOUR OTHER LIFE? PROFESSION, HOBBY?
In my "real life", my husband, John, and I have our own Accounting/Income Tax Practice. Last year I was laid off as a clinical data programmer and went to work with John in the office. Other than my passion for judging dogs, John and I love to play Pickle Ball with our "non-doggie" friends here in the community. I also love photography and have recently gotten into making slide show/movies; it's fun and fascinating. I am working on a History of Great Dogs for the Akita community. I think it's fabulous and I am having fun putting it all together.
ARE FOREIGN ASSIGNMENTS OF INTEREST TO YOU?
I really enjoy foreign judging assignments but have limited my foreign travel to one a year. Last year I did more and it was way too time-consuming and exhausting. I love the foreign assignments because, in some breeds, the dogs are of better quality outside this country. People in Europe really love their dogs. The entries are incredible. You can only judge a couple of breeds in a day because there are so many dogs. Europe recognizes more breeds than AKC. I have met some new breeds that, if I were younger, I'd be importing and becoming a foundation breeder..... arrgghhhh... again.
DO YOU THINK THE SPORT IS BETTER TODAY THAN 10 YEARS AGO?
No I don't. I think some things about the sport are better than 10 years ago, but many things are not. The problem I have with the sport today is exactly the same problem I had with the sport 30 years ago. Politics, bad judging, and newcomers who think they know it all and have nothing to learn. Too many judges read the Dog News every week and simply put up the dogs that are advertised. Recently, two judges said similar things to me at totally different times/places. Something like "Have you seen Mr. Big Handler's new special? I gave him a group last week; he's beautiful and he's out of Big Winners Kennel, you know, Mr. Big Breeder's dogs."
I simply said "I don't know Big Handler or Big Breeder, and frankly I don't want to know who owns or handles what dog." That's not what it's about! Okay, so I killed a couple of giants last week.... aarrggghhhh... I am sure my name's mud again with some people. I put up the dogs I think best fit the standard... sometimes its Ch Big Winner and sometimes it's Ch Little Guy's Owner Handled...right or wrong?
WHAT ABOUT THE DOGS OVERALL? BETTER THAN 10 YEARS AGO?
Probably, yes, overall. Some, no. Akitas, specifically, since that's my first passion, have overall, gotten sounder but are totally loosing type. We have had too many "big" winners with poor or no type. New judges watch these Akitas win and when they begin to judge, they then look for that "type" and think it's correct. It is NOT! When they have a dog in their ring that actually has good type, they totally miss it. Some judges fault judge and will not forgive a little in movement when they might actually have a dog with wonderful type. but maybe it doesn't fly around the ring or move as "clean" going away or coming back, so they find the generic good moving, pretty, flashy dog with NO TYPE. I see this happening in too many breeds. Talk to the breeders, they will often tell you the same thing. The top winners are many times NOT correct in type. Occasionally you get one that has it all but not too many, unfortunately. Bottom line? Nothing changes if nothing changes.
DO YOU THINK THE JUDGE APPROVAL SYSTEM IS OKAY TODAY?
I think the approval was OK yesterday, then today they change it and tomorrow they change it again. I feel like they told me they wanted me to pass the Bar Exam in order to be a judge, so I study, spend thousands of dollars to get that degree and apply to judge dogs, then they tell me I need to have an MD, not a JD and that's not fair. I just spent years and thousands to do what they told me to do and discover that's all for naught and I have to start all over again. I just wish they'd settle on a system and leave it alone. I'm easy... I do what I'm told but it's frustrating when we keep getting told we need different things in order to pass.
When I put in my app for additional breeds, I have a problem with the fact that some clerk at AKC who doesn't know one tenth of what I know about purebred dogs, looks over the app and decides if I qualify to be approved for those breeds. I think judges' approvals should be based on whether a judge does a credible job or not. Just that simple. Those judges who do a good job ought to move on to more breeds. Those that do not do at least a reasonable job should not get more breeds. And if I am one of those judges, someone should tell me and I'll walk away.
One more thing, frankly and IMHO, the things I learned about Poodles 20 or 30 years ago from people like Ellie Rottman, I can't unlearn. AKC says it doesn't count..... I think it counts big time. I learned it, and it is as applicable today as it was when it was learned a long time ago.
DID YOU THINK SO WHEN YOU WERE APPLYING?
YES! I, again, did what I was told to do; bred the required 10-4-2, passed the tests, survived my interview, got thru provisionals. But back then, you had the good-ole-boy network. Now, you might think that's a bad thing (maybe in some respects it is) but most of those good-ole-boys knew a good dog when they saw one and they knew a good judge when they saw one. They watched me judge and they knew that I could find a good dog. It was just that simple. Now it's all about components and seminars. All the components and seminars in the world will not make a good judge if he doesn't understand type and structure.... you either have an "eye for a dog" or you don't.
HOW DO YOU FEEL ABOUT DRESS CODES FOR HANDLERS? JUDGES?
I haven't heard of any dress codes. I do, however, feel our sport deserves respect and that appropriate attire shows that respect and keeps our sport professional. I try to dress "appropriately" whenever I go to a show, whether I am judging or not. I am an approved AKC judge. I feel that I should represent that position as honorable and professional. I believe all judges should be dressed appropriately whenever they walk in the ring and exhibitors should do the same. This is not a fashion show, shortest skirt, or biggest boob contest! Treat this sport with the respect it deserves whatever your part in it is.
I judged Juniors recently. My best Junior was quite inappropriately attired - her blouse was showing way too much, shall I say. I gave her the win anyway because she is an excellent handler and bottom line, that's what it's about. But when I saw her later, and she politely thanked me for the win, I did tell her that I thought her attire did not reflect respect for the sport or professionalism on her part. I hope she took me seriously and cleaned up her act.
AS A JUDGE, WHAT BUGS YOU MOST?
Really, nothing really bugs me in the ring....LOL.... I have such a great time judging, I do my job and let others (handlers and stewards) do theirs. But if I had to find some things?
Number 1 would be exhibitors with a really good dog that handle so badly I can't see the dog's qualities. TRAIN your dog, people; and go to handling classes. If you're going to be an owner handler, LEARN to handle. If you believe you have a good dog, and lost to a professional handler who, you believe, doesn't have as good a dog as you do; don't automatically assume the judge is political and only puts up handlers. If I CAN'T SEE your dog, I can't give it the win no matter how great a dog he may be!! I really try to see the dog beyond the handling... both bad handling AND the proficient handler who tries to keep me from finding faults, but sometimes, it's really challenging.
Number 2 is racing around the ring because a good moving dog moves well at any speed. A bad moving dog actually looks worse when the handler is trying to fool me into thinking he can cover ground when in fact, he can't. Hmm... and throwing bait, especially when it hits me or my steward.... HOW RUDE!! Hmmm.... funny, they are all handler issues... not dog issues. I love the dogs!
WHAT GROOMING FAD DRIVES YOU NUTS TODAY?
I don't have any peeves about grooming. I'm judging dogs and if the dog is not groomed properly, it's not his fault. I try to put up the best dog under the coat and in-spite of the grooming thing. Unless of course the standard forbids over grooming or trimming or calls for something specific. Then even the best dog can't (according to the standard) win unless he is so far superior to the others that I absolutely have to forgive the grooming.
WHEN YOU LOOK DOWN THE LINE, WHAT DRAWS YOUR EYE?
Correct type first and foremost! Grabs me... won't let go.... Flashy/Showy dogs will catch the eye but they have to have breed type.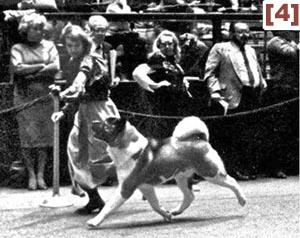 TO WHICH DO YOU GIVE PRIORITY, TYPE OR MOVEMENT?
TYPE... TYPE... TYPE.... I quantify that, however, by saying that overall type encompasses CORRECT movement for it's breed. The Akita standard calls for "strides of moderate length" so an Akita who flies around the ring does not have correct type. Havanese calls for an unbalanced structure (short upper arm, normal length of bones in the rear). Movement must re-balance the structure in order for foot timing to be balanced. Here again, movement is an intricate part of breed type. The Bulldog who does not show all four feet when he moves (coming & going) is not correct in type. It is more than head type...it is ALL of it... head, body and proportions, correct coat, tail set, balance, and yes, BREED specific movement.
ON A SCALE OF 1 – 10, RANK SHOWMANSHIP AND PRESENTATION.
Showmanship and presentation is in direct correlation with each breed standard. Overall, I try my best, as I said earlier, to look past such things. So I guess on a scale of 1-10, showmanship and presentation are down the line at, maybe a 2 or 3. As stated earlier, if the dog is not presented (handled) correctly so I can see and assess it, I cannot give it a win. So presentation, i.e., handling ability has to count some.
Another thing; certain breeds call for specific presentation (grooming/clips or loose leash) by the standard; Poodles and Havanese for example, where correct presentation is called for in the written standard. When judging these breeds, a judge is bound to give more weight to presentation than when judging a breed where presentation is not mentioned in the standard. It is my responsibility to learn how a particular breed is supposed to be presented. But if the presentation is not established in the standard as approved by AKC, presentation cannot play a significant role in actually choosing the best dog.
Showmanship? It's really hard not to look at a "showey" dog! One of the things that really catches my eye when a class first walks into the ring is the dog's showmanship. His attitude or flash, if you will. It is my job, however, to look past attitude, training, and showmanship. Recently I judged a breed for the first time. I had a pretty good entry in both numbers and quality and several specials in the Best-of-Breed class. One was particularly "showy" and had a beautiful/excellent head. He also moved well, overall, for the breed. He caught my eye and I kept looking back to him because he commanded my attention. The BAD thing for him was that he commanded attention...LOL No matter how many times I looked at him, one particular BREED CHARACTERISTIC was totally lacking and moving or standing, he never showed me that very important breed characteristic. He didn't win. Later, a breeder of 30 years of that breed told me I did a great job with his breed.
WHAT ADVICE WOULD YOU GIVE TO TODAY'S ASPIRING HANDLER?
Learn the important features of the breed (standard) you want to handle. Find dogs that are good dogs and actually exhibit strengths in areas important to the standard. Learn about structure and movement and how such things relate to the specific breed standard of the dogs you handle. I think you need to judge the dogs just as a judge will do before you will be a good a handler. Then train the dog to show like a million bucks!
If you have done #1 correctly, you will know what the dog's strengths and weaknesses are and can show off the strengths and minimize the weaknesses of each dog as an individual. Don't show every dog the same, even within the same breed. Every breed is different, every dog is different. If you have learned about dogs in general and the breed specifically, you will know each dog's great qualities and show him accordingly. Also, don't pull your entry from competition because Ch Mr Big Winner is at the shows this weekend. You have to be in it to win it! If you have a good dog, if you have confidence and believe in that dog, you will get recognition. Maybe you'll win... maybe not... but you will gain respect from other handlers, owners, and judges alike. If you think he's a good dog, the judge just might agree with you. And always keep dog shows in perspective. It's not life or death. It's a dog show. You win some, you loose some!
Oh another thing.... do NOT give me an attitude if I don't like your dog. Next year (or two years from now) this particular dog will be done, out of the ring BUT you will still be a handler and I will still be the judge. Maybe I'll like your next dog better, maybe I won't, but whatever, you don't want to loose the respect of the judging community by being a poor sport. And you DON'T want to piss me off!
AND WHAT WOULD YOU SAY TO ASPIRING JUDGES?
Ditto the handlers.... Learn what good breed type looks like and why. Judge honestly! Many exhibitors know more than you do about their breed. They will KNOW if you know anything about their breed. You will not gain any respect in the sport if you don't maintain your humility. You may be the Judge, it's your ring and you have the final say but once you walk out of the ring, you are still you. Your final choices in the ring may be final as far as AKC is concerned, but will also determine how much respect you get OUT of the ring; it will determine whether you get entries from the serious dog fancy, or just newcomers and your cronies who you put up all the time. Remember what Mel Downing said. He was right. Someone else once said "A judge gets the quality of entry he deserves." Sometimes when I get a ring full of pets, I get a lesson in humility and I wonder if I am doing a good job in that breed or not! Then I turn around next week and get FABULOUS dogs. Ah, yes! My arrogance returns...LOL.
Most of all, keep it in perspective. Enjoy judging. Enjoy every assignment. Have fun!! If you're not having fun and enjoying the sport at this level, GET OUT!! You're not doing anyone any favors by judging dogs if you wish you were off playing golf.
AND WHAT WOULD YOU SAY TO ASPIRING BREEDERS?
Ditto the handlers and judges... Learn your standard.... learn about dogs. Loose the arrogance in looking at the dogs you have! I know you love them but look at them very critically. Back to step 1 -learning. Then, when you have bred some good dogs, hopefully top winners, then, and only then, you can get a little bit arrogant and don't be afraid to do your own thing. Inbreed, after a few generations to weed out the faults and lock in all the strengths you have bred to refine. Don't be afraid to do things other people tell you not to do. If you have been humble and really learned, then you have EARNED the right to think out of the box and "do your own thing." Show dogs you know are good dogs, whether they win or not. If they don't win, then get involved with Judges Ed in your national club and be a positive force to bring good dogs back to the winners circle.
Don't NOT show a good dog because he doesn't win. If I, as the judge, don't have a good TYPEY dog to put up, I have to put up the best of the generic dogs I have in my ring. Give judges good type to find and if they don't find it, then get more involved in judges' education as I said earlier. Akitas have very little type left in the breed because of too many big winners with no correct type. But when I sit ringside mentoring aspiring judges, if I don't have the opportunity to say to those new judges "look at # 12..... she has excellent type; THAT's what you're looking for, imprint on it, cherish it" we can't educate other judges. Just maybe we can get enough judges to recognize it even if it's the ONLY correct one in the ring and looks totally out of place. Being correct may be lonely... but it's still correct.
WHICH DO YOU FEEL IS HAVING THE GREATEST IMPACT ON REGISTRATIONS AND ENTRIES TODAY – AKC'S CURRENT DIRECTION IN MATTERS SUCH AS MIXED BREEDS, ANIMAL RIGHTS LEGISLATION, SOME OTHER FACTOR? THE OVERALL QUALITY OF JUDGING? OR THE ECONOMY?
I think AKC's arrogance is not helping. The mixed breed thing is fine! Helps financial issues and brings more people into the sport. But overall I think the economy is our worst enemy. Having lost my job last year, I cut back on showing. So many people have lost their jobs. Some have lost their homes. Some are lucky if they can keep their dogs, if they can afford to feed their "breeding program" and remain in the sport at all. They all cut back on shows to save money for the dog food.
Animal rights legislation is another big factor. I don't think it affects shows other than indirectly. If I can't own an Akita in this town, I can't show one but back to the economy; If I can't sell my house and buy one in a community where I CAN own and show my Akita, then I'm in deep doo doo..... and so is the sport.
TheJudgesPlace.com EST 2005 © Sep 2009 http://www.thejudgesplace.com/Meet-Dog-Show-Judges/Vics-09091.asp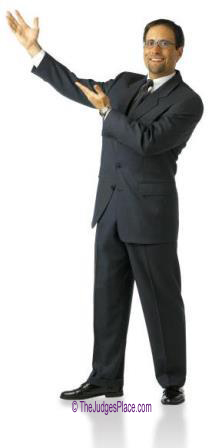 The Ring Steward says "Go back to Meet The Judges!" We invite you to read interviews with other prominent AKC judges and Judging Legends. As you attend shows this year, make mental notes about who you will nominate next year!
Courtesy NetPlaces Network, World's First Online Purebred Dog Information
The world's 1st public website (TheDogPlace.org) from Animal Health to Vaccines.
The world's 1st online dog news, (TheDogPress.com) from AKC records to zoological news.
The world's 1st site by/for dog show judges (TheJudgesPlace.com) educates on purebred dogs.