AKC Judge Robert D. Sharp
Working, Terrier, Toy, Non-Sporting Group Judge
Interview August 2008
Robert D. Sharp is a naval veteran of World War II, a graduate entomologist (Purdue University) and former President, Director and Vice President for several major national chemical companies.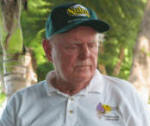 Despite his impressive pedigree and old-school background, he's a rather informal gentleman who answers to "Bob." He was born in Brooklyn and now resides in Albany NY with Jeanette, his wife of 42 years.
Bob exhibited his first dog, a Smooth Fox Terrier, in 1935. He took to the ring as naturally as the dogs and people took to him.
Along with Ken McDermott, he studied under Seth Campbell, a Terrier Handler and over the next twenty years, became a successful all-breed handler.
Dedication to the sport led him to become President of the New York Boxer Club and also the American Lhasa Apso Club. He became Delegate to the American Kennel Club and is currently show chairman for the Adirondack Dog show circuit.
Developing interest and expertise over the next sixty years, Bob bred or owned Affenpinschers, Boston Terriers, Boxers, Lhasa Apsos, Whippets, Brussels Griffons, English Toy Spaniels, Maltese, Miniature Schnauzers, Norfolk, Norwich, Pugs, Toy Manchesters, Old English Sheepdogs, Wire and Smooth Fox Terriers, Poodles, Doberman Pinschers and Labrador Retrievers. "Bear", his Affenpinscher, was the very first in the world of his breed to achieve a Best in Show.
Robert Sharp is approved for (and considered an authority in) all Working, Terrier, Toy, and Non-Sporting breeds. He still does Junior Showmanship.
It's a good thing he enjoys travel because he's adjudicated in Argentina, Chile, China, Canada, Bolivia, Brazil, Mexico, Ireland, Italy, Spain, Portugal, Thailand, Taiwan, the Philippines, Venezuela, Dominican Republic, the Netherlands, Japan, Columbia, Uruguay, South Africa, and Australia. He was invited to do the World Show in Portugal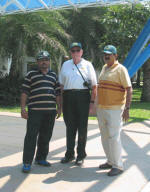 in 2001 and honored again by judging the World Show again in 2005 in Buenos Aires, Argentina.
Closer to home, Mr. Sharp has judged Westminster Kennel Club and has adjudicated in nearly all of the 50 United States, including Puerto Rico.
As evidence of his standing, he received the Ken-L-Ration Non Sporting Group Handlers award in 1972 and in 1994 was honored with the Ken-L-Ration Medal for Good Sportsmanship.
One of the greatest honors paid to judges is exhibitor support at Specialty breed shows and that is a long list for Bob Sharp. He's judged Boxers, Bull Mastiffs, Great Danes, Newfoundlands, Rottweilers, American Staffordshire Terriers, Australian Terriers, Kerry Blue Terriers, Miniature Schnauzers, Chinese Cresteds, Italian Greyhounds, Maltese, Manchester Terriers, Miniature Pinchers, Pomeranians, Pugs, Shih Tzu, Yorkshire Terriers, Bulldogs, Boston Terriers, Chinese Shar Pei, Dalmatians, Lhasa Apsos, and Poodles.
So what does this man look for in his lineup? Other than a true demand for and knowledge of breed type, what is the one quality that is sure to catch his eye?
He didn't mince words. "I judge strongly on movement."
Having been an All-Breed handler, he has great respect for the profession but we asked what "handler tricks" he could do without? Again, he was succinct and to the point. "I do not like over grooming."
Bob is involved with so many breeds, it might not have been fair to ask which one is his favorite breed but we did anyway. He told us "I have no favorite breed, I like them all but if I had to choose one it would be my wife's Seeing Eye dog, a lab-golden mixture, which is the breed of choice these days." His favorite movie? "I think the movie BIS is a riot!"
On a roll, we asked about his favorite color and food. Laughing, he replied "I used to wear a lot of green and had the nick name, Jolly Green Giant but I'm thinner now and like Purple. Oh, and I love Crispy French Fries!"
And one last point. There was a rumor that he had been asked to retire from judging. (see interview with AKC's Judging Department) It was patently untrue. He just adjudicated in Thailand this past May, also in Michigan and New York. His health is good and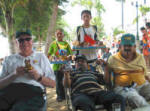 he plans to judge for many more years to come. In fact, his birthday is July 4th and he will be judging the Summer-Fest in California at that time.
We thank Bob Sharp for sharing these personal insights with our readers. Be sure to wish him a Happy Birthday on Independence Day. He's an independent intellectual with a great sense of humor and a lifetime of devotion and service to our sport!
The dog sport lost a great man on April 4, 2015.
TheJudgesPlace.com EST 2005 © http://www.thejudgesplace.com/Meet-Dog-Show-Judges/Sharp-Robert-088.asp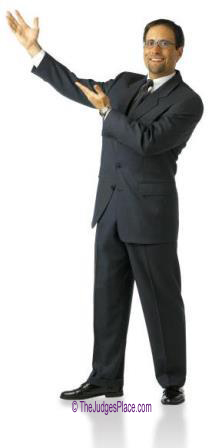 The Ring Steward says "Go back to Meet The Judges!" We invite you to read interviews with other prominent AKC judges and Judging Legends. As you attend shows this year, make mental notes about who you will nominate next year!
Courtesy NetPlaces Network, World's First Online Purebred Dog Information
The world's 1st public website (TheDogPlace.org) from Animal Health to Vaccines.
The world's 1st online dog news, (TheDogPress.com) from AKC records to zoological news.
The world's 1st site by/for dog show judges (TheJudgesPlace.com) educates on purebred dogs.