RICHARD "DICK" V. MILLER
AKC Approved for Hound, Terrier, Toy and Non-Sporting Groups
"Meet Dog Show Judges" interview conducted by Denise Lovette
Richard Miller submitted his judging application 1991. Since then, he has been all across America and to many foreign countries judging dog shows.
Richard and his wife Martha (married since 1963) live in La Harpe, IL and travel together near and far for Richard's judging assignments. He says, "The dog show scene was of high interest to me after seeing the Disney movie "Big Red" but I didn't realize where, eventually, it would take me."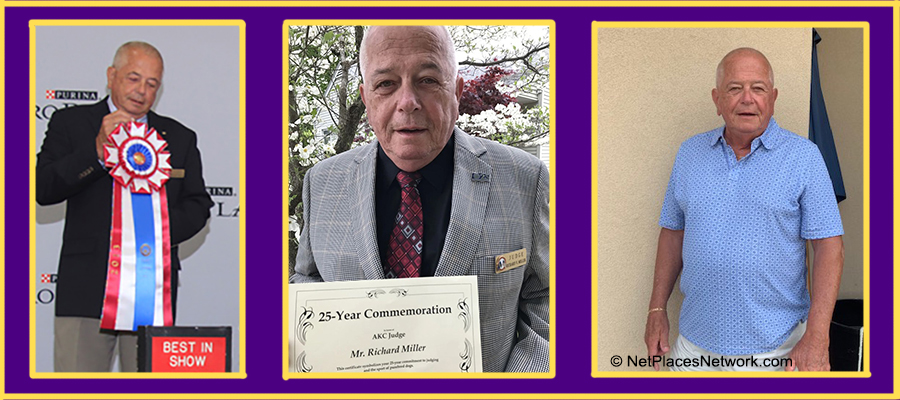 Richard knows that everyone won't be happy with his decisions in the ring, there is quite a bit on the line with people trying to get Championships and Grand Championships on their dogs. Mr. Miller says "Like an official at a sporting event, you have to stand your ground, and have the (ability) to make firm decisions.."
The dogs that win in his ring are the ones that most closely meet the written AKC breed standard and on that note we asked ...
What was your first breed? First showdog?
The Chihuahua was my only breed.
Were you a professional handler?
No, I was not a professional handler. I showed my own dogs, however.
Which dog was your top record holder, winner, or producer?
I bred two top winning Chihuahua males. The first was Mar-Rich's Minute Man (Rebel). He was a very impressive dog, but he was not a stud dog.
My second was Mar-Rich 'N Mina's Rumor Has It (Clay). He won the variety at our national in two consecutive years. The first judge was Michelle Billings. The second judge was Peggy Hogg. Clay was the top stud dog for the Chihuahua Club of America two consecutive years.

For which breeds were you first approved?
I was approved to judge my breed (Chihuahua) in late 1991. I judged the first time in May of 1992 at the Chihuahua Specialty of Michigan.
Who most motivated you to become a judge.
My peers encouraged me to begin judging. I have never regretted this decision.
What do you do in your other life? Profession, hobby?
I taught in an elementary school for 13 years. I served as the assistant principal for several of those 13 years. I left education and took a position in health care administration. I worked in the same facility for 31 years. I retired in 2009.
My primary hobby is working in stained glass. I have made lots of windows, lamp shades, glass boxes, kaleidoscopes, etc.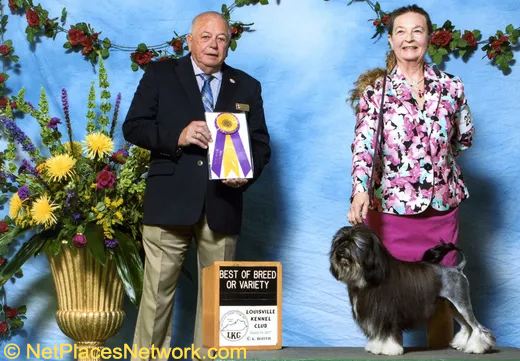 Do you think the sport is better today than 10 years ago?
I don't feel there is a universal answer to this question, if we narrow the question down, I could respond to individual inquiries.
What about the dogs? Better than 10 years ago?
Some breeds are better, some are worse. This like the question above, is too broad a question.
How do you feel about dress codes for dog show participants?
Male participants are usually well groomed and attired. Some females are dressed so casually that I feel they miss the mark of being a professional by a wide margin.
In your ring, when you look down the line, what draws your eye?
Balance draws my eye first as I look down the line. Top line would be second and set of tail last. If the breed is to have tight feet I also observe the feet.
Which do you look at first, type or movement?
Type has to be first. If the dog lacks type no matter how well it moves, it is not a winner
What is the most appreciated thing a club can do for judges?
Provide transportation, a simple hot lunch and well trained ring stewards.
In closing, what advice would you give to today's aspiring judges?
Confidence is great, but don't be overly confident. Overly confident judges come across as arrogant. Be kind and respectful to all exhibitors regardless of their presentation(s). Encourage newcomers in a non-phony manner. Relax and enjoy the assignment.
TheJudgesPlace.com thanks Mr. Miller for the interview. Click to email Richard Miller.
TheJudgesPlace.com EST 2005 © June 2022 http://www.thejudgesplace.com/Meet-Dog-Show-Judges/Miller-Richard-21062.asp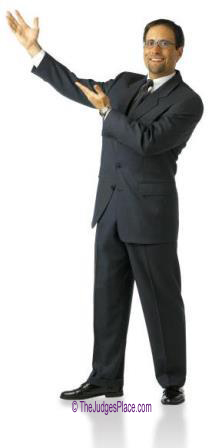 The Ring Steward says "Go back to Meet The Judges!" We invite you to read interviews with other prominent AKC judges and Judging Legends. As you attend shows this year, make mental notes about who you will nominate next year!
Courtesy NetPlaces Network, World's First Online Purebred Dog Information
The world's 1st public website (TheDogPlace.org) from Animal Health to Vaccines.
The world's 1st online dog news, (TheDogPress.com) from AKC records to zoological news.
The world's 1st site by/for dog show judges (TheJudgesPlace.com) educates on purebred dogs.