Frank McCartha
Inside the Mind and Heart of Frank McCartha, Jr.
Frank McCartha, Jr. is one of America's most respected horse and dog show judges. He does Hound, Working, and Herding Groups and is also the owner of Heritage Farms Miniature Horses and Training Center in Chapin, South Carolina.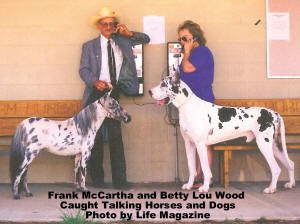 He and his wife Faye became involved with Appaloosas and Quarter Horses in 1955, purchased their first Miniature Horses in 1986 and quickly became known for breeding top-quality spotted Miniature Horses, including Pintos.
Frank shares an affinity for spots with Don and Betty Lou Wood who bought their first Miniature Horses from Heritage Farms. The Woods have enjoyed great success in both dog and horse show competitions. Mr. McArtha is pictured with Betty Lou Wood and one of her Harlwood Great Danes, AKC Champion Rhondo.
He says "The mare in the photo, Heritage Safari Warbuck, is a daughter of Landrys Daddy Warbuck and "Candy Spots" and we still have both. Safari was 2001 Reserve National Champion Aged Mare. The Great Dane is Champion Amherst-Harlwood Bubba Rondo, top Dane in US in 1996, both owned by the Woods."
Interestingly, the magnificent dog is taller than the Appaloosa mare, which according to their respective judging standards, is as it should be.
Mr. McCartha said it is important to start out with top quality in order to be successful in the show ring. "Several other outstanding winners now owned by the Woods include the National Champion Weanling Stallion, Reserve Grand National Jr. Champion and National Champion Multi-color Stallions & Geldings."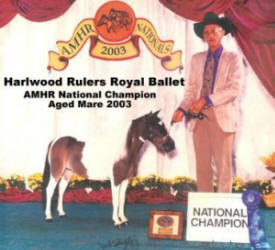 "The Woods have also had a lot of success with Harlwood Rulers Royal Ballet (pictured) was the 2003 National Champion Aged Mare. She's sired by our Mustardseed Ramundos Princely Ruler X Heritage Tribal Dancer Silver Meadows Skywalker which is the same breeding as Heritage Safari Warbuck on Top Side."
For our readers who might not know the terminology, does "Aged Mare" mean the delightfully diminutive "pinto" was an old horse?
Mr. McCartha laughed and explained "Oh no, it means she's not a filly but is judged as an adult, sort of like the Open Class in dogs. Aged mare is three years and over and Royal Ballet was just three years old at that time. That was a good win."
McCartha judges all AKC Hounds, Working, and Herding breeds, plus several Sporting breeds. Unfazed by fame, McCartha is known for finding the best exhibits, whether they are handled by professionals or awkwardly presented by a novice.
When asked about his reputation for fairness, Frank became serious.
"Everyone started out as a novice. We're judging the exhibit, not the skills of the trainer or handler. As long as the animal is clean and the breed type and movement can be seen, it can win under me."
The McCarthas run about 100 head of show horses, herd sires and brood mares centered on the nation's leading bloodlines. Heritage Farms competes in Halter and Driving classes.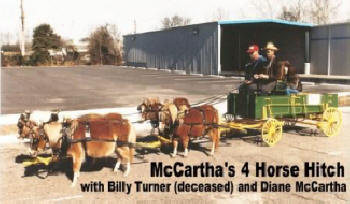 Frank smiles as he talks about creating his 4-Horse Hitch. "After the death of Bar B Bronco Billy in 1993, just 10 days before the National, I was devastated as he was one of the winningest and nicest horses I ever owned. In Liberty Classes, I had the only 4 daughters he ever sired, two being full sisters and the other two were half sisters; so I felt they would make a perfect matched 4 horse hitch; all I had to do was get the 2 half sisters broke to drive; so I got them "green broke" singly, then with some help hitched all 4 up and started driving in the pasture until I felt safe to get them on the road."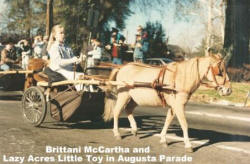 Frank and Faye support all Youth Exhibitors, including of course, their lovely Granddaughters Britanni McCartha and Amber Williams who is always at the top of her class in Pleasure Driving and Youth Showmanship.
Successful horse breeding is a challenge compared to dogs or cats which have multiple offspring in a litter. A mare has only one foal per year, thus getting the genetic combination just right is crucial or there's a long wait before the breeder can try again.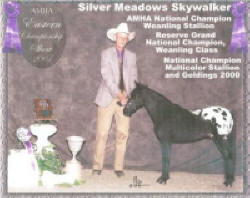 The debate over which is most important when selecting a breeding pair, pedigree (genotype) or physical characteristics (phenotype) may never be resolved but Mr. McCartha says "Horses are like dogs to this extent; we select from pedigree on the basis of type, balance, soundness, movement, and disposition. If we don't get the results we strive for we, do not repeat that breeding but will use a different Stallion with that mare on the next breeding but many repeat breedings have been highly successful for us."
Kids, horses, dogs; they all come together at Heritage Farms where "seeing spots" is synonymous with quality and devotion.
Visit the website http://heritagefarms.itgo.com/menu.html (sorry site has been renamed/removed) or email FMcCartha@aol.com
Interview courtesy National Pet Press Newspaper V2-1 Feb. 2008
TheJudgesPlace.com EST 2005 © 10121 http://www.thejudgesplace.com/Meet-Dog-Show-Judges/McCartha-Inside-0804.asp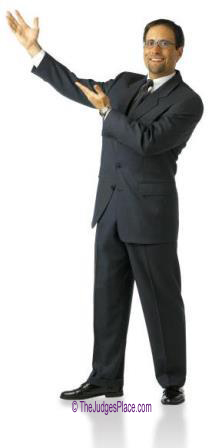 The Ring Steward says "Go back to Meet The Judges!" We invite you to read interviews with other prominent AKC judges and Judging Legends. As you attend shows this year, make mental notes about who you will nominate next year!
Courtesy NetPlaces Network, World's First Online Purebred Dog Information
The world's 1st public website (TheDogPlace.org) from Animal Health to Vaccines.
The world's 1st online dog news, (TheDogPress.com) from AKC records to zoological news.
The world's 1st site by/for dog show judges (TheJudgesPlace.com) educates on purebred dogs.