LT. COL. WALLACE H. PEDÉ
AKC Multi-Group Judge Emeritus Wallace H. Pedé, affectionately known as "Wally" or "The Colonel", passed away January 31, 2021. Click for more information.
July 2022 UPDATE: His Grand-daughter Ginny informed us that the family will be honoring his life in a private remembrance (fall 2022) telling us "A Life so beautiful, deserves a special celebration" and so very much like Wally's parties, his family is continuing in his footsteps... "Leave your sadness at the door, but bring rather your stories, your laughs and happiness over a life that was lived to the fullest."
Please continue on to read one of the last interviews with a great dog-man, AKC Judge and over-all wonderful person...
Partially bed-ridden, he no longer wakes up and "hits the floor" to do a hundred push-ups as he has done for over half a century. He is however mentally sharp and genuinely blessed to have Yolanda, his unflappable and extremely capable nurse-companion.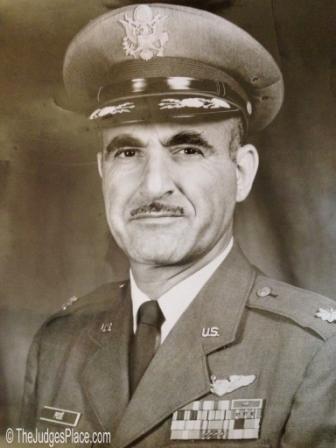 Lt. Col. Wallace H. Pedé was "on television in the "Bomber Flyover in Washington D.C." The news crew did a brief interview with the Colonel, one of the few remaining WWII vets who gathered at the capitol on May 8th 2015 for the 70th anniversary of V-E Day.
The TV reporters came to his home the next day to complete the interview. Col. Pedé flew 28 combat missions and at the end of the war in Italy, the bombers flew wingtip to wingtip and dropped their bombs. Our "dog show celebrity" was flight navigator on that bombing drop. His closing comment about the guys who didn't come back reminded viewers of the costs of that campaign.
Wally Pedé's first litter was collies but then Kay saw an Afghan Hound on TV. Even though he didn't consider it a "manly breed", Wally was undone. As an aside, Wally and Kay were married 59 years and while everyone in the dog fancy knows "The Colonel" as a strong, assertive in-control judge, his beloved Kay could turn him into melted ice cream.
In 1955 Captain Wallace H. Pedé was sent "overseas" on the U.S.S. America and he tells us that Kay talked about getting an Afghan Hound when they got to England. Upon their arrival, she began making inquiries and they decided on an Afghan from Gwen Angel, a famous Saluki breeder. The Pedés began going to shows and of course, they were hooked. Wally showed the dog, gaining experience and finally, they went to the Crufts Dog Show, which even then, was the largest, most prestigious dog show in the world. There they learned as do most novice dog owners, that their first show dog really wasn't of the caliber to win big.
Kay wanted "the most beautiful dog in the world" and Wally, even then competitive in everything he did, wanted a winner. They decided to purchase an older pup, did the research and acquired Bletchingley Ragman of Scheherezade. He was a bargain because he was very shy and the breeder Peggy Riley agreed to a conditional sale. Wally took the dog everywhere, even to his base office, socializing him to everything and everyone. (There's a lesson there.)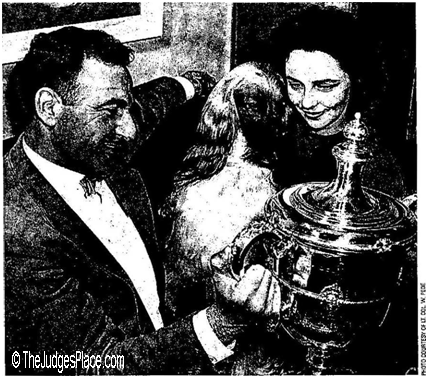 Within six months, he took his first Best In Show and after that, there was no stopping Captain Pedé's advancement in both his career and in the dog world. Wally's steady hand and hours of training paid off when cannons were fired off at a show held in conjunction with the fair. While other dogs cowered, Ragman stood fast and confident, going on to win BIS that day. Then, in 1961, with Brits cheering the Yank to victory, Wally and Ragman became the first American to win the Group at Crufts Dog Show. Very few "foreigners" have since experienced that honor.
Transferred back to the states, then to Okinawa, Wally says "I'll bet that it is the only litter whelped on Okinawa that produced five American Champions, two Group winners, a BIS winner, and one of the breeds top producing bitches." The Pedés were then sent to Hawaii where the dogs had to spend four months in quarantine. Finally, Wally and Kay Pedé returned the States. Unable to fly the dogs, Wally personally checked out the Queen Mary's canine accommodations and made arrangements with the local butcher to provide special food for his dogs.
They settled on two acres in Springfield VA, close to the airport and the Scheherezade kennel name from Arabian Nights. There the Pedés began to develop a limited breeding program based on Wally's definition of "inbreeding" which he sees as "the breeding of mothers and sons, sires and daughters, and sisters and brothers - which is the closest you can get, obviously." They encountered and corrected "a problem with monorchidism. It was there, obviously, in our stock. This is another thing I find fascinating: many people are afraid to talk about the bad problems (their dogs) have as though, somehow or other, it is a reflection on themselves. What dogs are carrying genetically is not in any way a reflection on any dog breeder."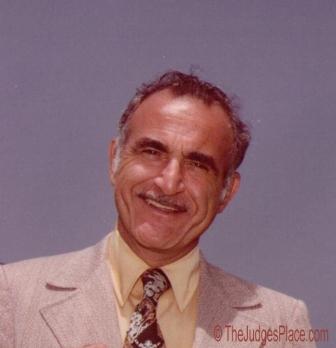 Wally Pedé became an AKC judge known for his strict ring procedure and analytical application of the breed standards. By the mid-70s, he was in great demand and judging assignments increased. Working breed exhibitors found him as knowledgeable and fair as did Hound handlers.
The Scheherezade Afghan Hounds began to make news. In a 1983 Afghan World interview he stated the following about close linebreeding "Before we bred for the litter that Shadow was in, we had bred Komira to her father, to a son and to a grandson. We wanted to be certain that she was the one to be bred to her brother. People had asked why we hadn't bred the two of them sooner. As a matter of fact, we had a very big breeder visit the house to use the dog. This breeder said, 'I'd just put these two dogs together: they are two terrific dogs.' True, we could have saved about eight years in the breeding program, but there was one big exception: if we had a problem, we wouldn't know whom to blame, and we wouldn't know from whence it came. Dancer was bred to his mother before he was bred to his sister. I'm not telling you the dogs don't have problems, but, by breeding them closely on each side, at least we know where they (the problems) come from."
Wally also ran on puppies that were going to be sold as breeding dogs. He initially graded his Scheherezade Afghans between three and five months but said "I won't send a puppy to anyone until it is between four and five months old."
On Judging, Col. Pedé (licensed for All Hounds and Hound Group, All Working and Working Group, plus most Herding breeds) says "Every judge ought to get out and take his dog into the ring. At least he could show everybody, 'This is what I think a dog ought to look like.'"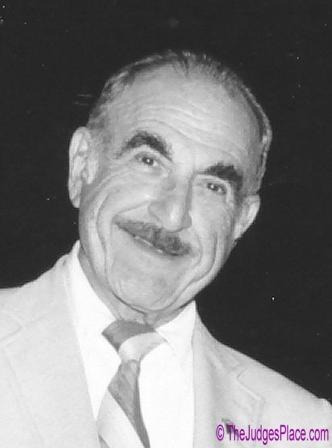 On breeding to the AKC Standard, he said "One of the nicest compliments I think we ever received was from a young lady who has been in Afghans for about eight years. She said 'You've got those old-fashioned Afghans' and I asked her when they had changed the Standard - of course, our Standard has never been changed."
Rolling the clock back to 1959, Wally Pedé became a judge while they were still stationed in England. When they returned to the states, he applied and became an AKC judge in 1961. In fact, he was the first Breeder-Judge to do an Afghan Specialty. It was an unprecedented honor as at that time, most specialties were judged by All Breed judges.
Why didn't he become an all-breeds judge? Simple. He never wanted to. The Hound and Working Groups were enough. He told Afghan Hound Review that he put in so much time and study mastering all of the Working Group (before the herding dogs were split off into Herding Group) that he just didn't want to "put all that work into doing all the other breeds, although, again, unless one is ignorant, stupid or asleep, a judge has to learn many things simply by judging 300 or 400 shows."
As a successful breeder-owner-handler of Working breeds, this editor can vouch for his reputation as a "no-nonsense stickler for breed type and movement." He appreciated the overall picture of breed type but he never overlooked the details. He was impeccably fair, often awarding bumbling owner handlers but equally admired and respected by the pro handlers.
The Senior Conformation Judges Assoc. (SCJA) was a milestone in judges education. With all-breeds judging legends such as Bill Kendrick, Tip Tipton, Mel Downing, and the Colonel's organizational expertise, the Senior Conformation Judges Education Association (SCJA) became a reality in 1983. Wally says "In 1989 we put on the first Judging Institute. It was held in Indiana, Pa. At that time there was no formal judges' education at AKC or anywhere else in the country."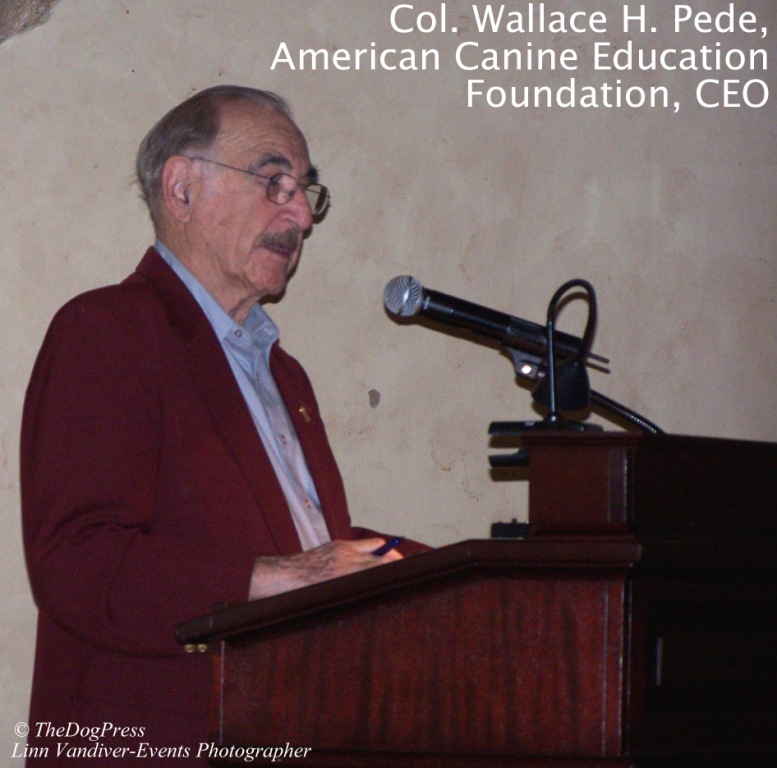 The judging "school was open to all, even those who were not yet AKC approved judges. Asked why SCJA chose to do it that way, the Colonel's well known logic was irrefutable "Why should we wait until a guy is a judge before we start educating him?"
On dog shows in general, Wally Pedé says succinctly "I don't think - in our dog world today - that good producing dogs get the acknowledgement that the big winners do, but they are equally important."
Wally and Kay were married nearly 60 years. His beloved wife passed away August 9th 2015. It was tough for Col. Pedé but family, friends, and a stiff upper lip saw him through his greatest loss.
As he celebrates his 97th birthday, quietly remembering Kay, the "big war" and the sport he loved, we trust that he will know how much he is honored and loved by every person reading this.
TheJudgesPlace.com EST 2005 © 1707r195 http://www.thejudgesplace.com/Meet-Dog-Show-Judges/Lt.Col.Wallace-Pedé-AKC-Judge-1707.asp
Related Articles and Information
NBC Interview with Lt. Col. Wallace H. Pedé Member of NetPlaces Network's SAAB The ACEF Judges Institute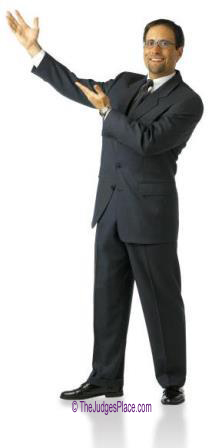 The Ring Steward says "Go back to Meet The Judges!" We invite you to read interviews with other prominent AKC judges and Judging Legends. As you attend shows this year, make mental notes about who you will nominate next year!
Courtesy NetPlaces Network, World's First Online Purebred Dog Information
The world's 1st public website (TheDogPlace.org) from Animal Health to Vaccines.
The world's 1st online dog news, (TheDogPress.com) from AKC records to zoological news.
The world's 1st site by/for dog show judges (TheJudgesPlace.com) educates on purebred dogs.