2016 Judging Legend
"YOU VOTED" For A 2016 Judging Legend Candidate
The top nominees for Judging Legend 2016 past and present were Ann Rogers Clark, Joseph Gregory, and Kenneth McDermott.
And the winner is... Ann Rogers Clark (obituary)
Runner Up is ... Joseph "Joe" Gregory
---
We selected comments that best summed up each Candidate.
ANN ROGERS CLARK:
No question, Anne Clark is one of the most memorable figures in American dog show history. Marcia Schlehr

Annie was one of the first Judges that began to mentor me as I grew in the dog show world; always respectful to new owner/handlers, and always supportively critical ! There will never be another! Kathryn Smith

I learned so much from Annie, both as an exhibitor under her numerous times and as an attendee at a week long judge's institute. The one thing I really remember is her comment..."judge long, judge wrong". Go with you first impression unless you see something on further exam that changes your opinion, but don't keep nit-picking between specimens. Lynne Rosebrock

I learned a lot from her in the short time I knew her. Attended seminars, watched ring side, talked briefly with her. Asked opinions. We lost another great legend. Suzanne Bunting

An outstanding judge who used every opportunity to educate. I have always followed her advice that in judging she makes her first cut based on type and then goes with the soundest of those in the class. In judging our breed it is outstanding advice. Brenda Fairbanks
JOSEPH (JOE) GREGORY:
I have always liked showing to Joe Gregory. He is so pleasant and knowledgeable. Susan and Larry Legg

Joe Gregory is very deserving of this honor—very fair, very honest, very pleasant. Jo Fleitas

Love to show to him-win or lose! Maureen Pogorzelski

Placing my vote for Mr. GREGORY. love to watch his masterful mind as he judges. FromTheHeartKennel

Great ring presence with authority and kindness. The dogs get a fair look and time to show what they are made of!!!! Mary Schroeder

Easily one of my favorite judges! Kind to all exhibitors and looks at the correct end of the leash. Teresa McMahan
KENNETH MCDERMOTT:
Knowledgeable, ethical, kind-hearted, intelligent, articulate are all good descriptors of Kenneth McDermott . He has seen the sport from all possible angles: handler, breeder and finally judge. As a judge, his placements are almost always based on type first which indicates to me, at least, that he truly understands the intricacies and purpose of the breed. Honestly, I cannot heap enough praise on this man! Leonard

Ken Mc Dermott gets my vote, he has true appreciation for breed type and judges fairly. Lynne Myall

Ken all the way! Suzanne Orban-Stagle

Ken McDermott is a judge I will always think of fondly- he is knowledgeable of the standards, he always judged with integrity, and he was always kind to both dogs and exhibitors. He judged with a breeder's eye, which made an opinion from him worth having. Vanessa Giamo
2016 Judging Legend Results
Final Tally
All Results Are Final,
Your vote made the difference.
Judging Legend 2016 is.....
Ann Rogers Clark

38%

Joseph "Joe" Gregory

36%

Kenneth McDermott

26%
Ann Rogers Clark!
TheJudgesPlace.com EST 2005 © May 2017-2206 http://www.thejudgesplace.com/Meet-Dog-Show-Judges/Legend-2016-VOTE-Results.asp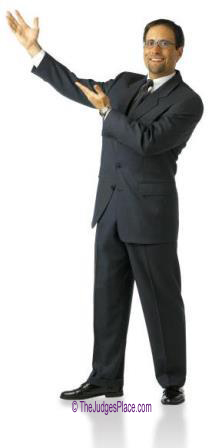 The Ring Steward says "Go back to Meet The Judges!" We invite you to read interviews with other prominent AKC judges and Judging Legends. As you attend shows this year, make mental notes about who you will nominate next year!
Courtesy NetPlaces Network, World's First Online Purebred Dog Information
The world's 1st public website (TheDogPlace.org) from Animal Health to Vaccines.
The world's 1st online dog news, (TheDogPress.com) from AKC records to zoological news.
The world's 1st site by/for dog show judges (TheJudgesPlace.com) educates on purebred dogs.