Dr. J. Donald Jones
Westminster's 2008 Best In Show Judge
Interview by Barbara J. Andrews © TheJudgesPlace.com March 2008
J. Donald Jones, 2008 Westminster Best In Show Judge reflects on the Beagle, Akita, and other Dog Show Celebrities. He is a retired counseling psychologist and college administrator. He lives in Marietta, Georgia where he was an Emory University Dean for twenty years.
During his forty year judging career, he has judged the prestigious Westminster Kennel Club on eight other occasions, two of which were Group assignments. Dr. Jones also officiates at top shows around the world.
His soft spoken instructions encourage proper ring decorum and gaiting a dog at the proper speed. He is and will always be a teacher and a true southern gentleman.
His original breeds are Dobermans, German Shepherd Dogs, Miniature Pinschers, Schipperkes and Pembroke Welsh Corgis. He owner handled his Corgi to top honors and had the top winning Schipperke in breed history.
We asked Dr. Jones how the Beagle got to him.
"What cinched it was when he was going around the ring the last time. He went at the correct speed, absolutely perfect locomotion.
"That's the almost nearly perfect dog I've ever seen. You're out there with seven GREAT Dogs and I picked the greatest of the great. That's how I picked him. It's wonderful to have that kind of line-up."
What about the Akita? Wasn't she a favorite going in?
"She is one of the most wonderful of dogs, really gorgeous and so correct. It was a fine line between them all. I gave the Beagle a perfect ten but the others all scored a 9.9.
"It was a wonderful, wonderful line-up. No one in the world ever had a more pleasant job and such a really high responsibility. To pick the greatest of the great is something else!"
The AKC records the Beagle as one of the most popular breeds yet that's their first Westminster Best In Show. For those watching from home, and you've done it too, the telecast is so good now that it feels like you are right there.
"Right, and this year was very special, in my mind everything about it was better than its ever been. All the good dogs came through. Many times, some of those we know well, seem to get lost in the Breed or Group judging. But this time they were at the top."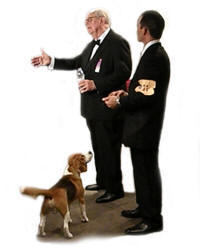 Yes, our staff said the same thing. Personally, I think you couldn't have had a better choice, and you couldn't have made a better choice!
He chuckles. "I said about the Beagle, "that it is the most nearly perfect dog I've ever judged.' And I think that's true but keep in mind there were six other great dogs in there standing right behind him."
Those who have shown to you know you don't like the handlers to race around the ring. Your Best In Show dog moved beautifully. People could really see and appreciate them.
"I've never seen such perfect locomotion as I did with the Beagle. He was so coordinated with his handler; Aaron Wilkerson, and the way they went around the ring that last time, it was like "Oh look at that!"'
I guess Aaron is more experienced than his age would indicate?
"He was raised with the Beagle in his family. I've known the kid since he was ten years old. He worked for Denny Mounce and she deserves some credit for helping raise him. He's a polite young man who shows his dogs professionally, accepts his awards professionally, whatever' they are, and keeps a very pleasant attitude and look on his face.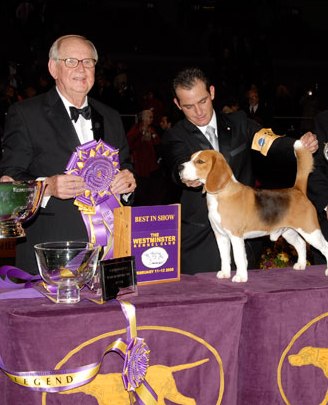 He smiled, "His parents did a good job apparently, too. But now, you have to give Denny credit because she told me he started working for her when he was only ten years old." (laughing now) "I think next to me and him, she was the happiest person in the whole world that night."
We're trying to catch up with Uno's owners and with Aaron. He did a great job.
"Yes he did. Of course you could say that about every handler in the ring. They all did a first rate job."
Was this your first time judging Best In Show at the Garden?
"Yes, you know you don't get to do that but once. (laughing) Only one judge has done it twice and that's the late great Virgil Johnson.
"He was one of my mentors and a friend who also lived in Georgia. He judged Westminster twice, in 1954 and 1963. Michelle Billings also lived in Georgia before she moved to Florida and she has judged there more than once."
Right, but she hasn't judged Best In Show twice has she?
"Oh no, nobody's done it twice since Virgil. Early in the fifties he judged Best and put up a notorious, famous Cocker Spaniel. "Rise N' Shine" was the name. It belonged to a woman in Atlanta who worked for a group of doctors. It was said she embezzled over a hundred thousand dollars and in the fifties, that was a lot of money. I don't know what ever happened to her but the dog was quite famous. Teddy Young showed the dog. Virgil judged it again, about seven years later but that time he put a Springer Spaniel 'Black watch something..' as Best In Show."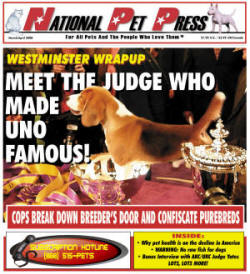 Your memory is incredible! David Frei provided a ton of Westminster background but you could be a dog show historian.
"Oh yes, David Frei is really good. Just call him if you need to confirm anything."
Well sir. One last question. What is the one thing that really drew your eye to the beagle?
"His perfect locomotion obviously, but also his face and expression. It will melt you when you look directly in his face. So sweet and so loving, so pleasant and gentle that you just melt down right there."
I can see that! Our staff got a great shot. The "Beagle In A Bowl" was charming everyone around the table. Click here for 2008 coverage.
Don, we appreciate you sharing these insights with our readers.
"You are more than welcome. It was a great show, great dogs, and a highlight of my judging career."
TheJudgesPlace.com EST 2005 © 0803 http://www.thejudgesplace.com/Meet-Dog-Show-Judges/Jones-WKC-0803.asp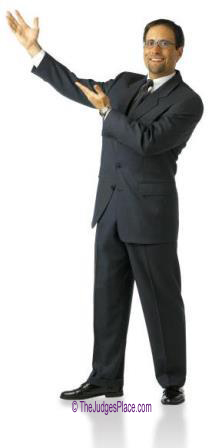 The Ring Steward says "Go back to Meet The Judges!" We invite you to read interviews with other prominent AKC judges and Judging Legends. As you attend shows this year, make mental notes about who you will nominate next year!
Courtesy NetPlaces Network, World's First Online Purebred Dog Information
The world's 1st public website (TheDogPlace.org) from Animal Health to Vaccines.
The world's 1st online dog news, (TheDogPress.com) from AKC records to zoological news.
The world's 1st site by/for dog show judges (TheJudgesPlace.com) educates on purebred dogs.