ANN D. HEARN
AKC BIS, Sporting, Terrier, Toy and Non-Sporting Groups
TheJudgesPlace.com 2017 interview by Barbara J. Andrews
Exclusive interview with Ann Hearn, who took her sense of humor and owner-handler experience to center ring as a multi-group AKC judge.
Mrs. Hearn resides in Georgia, and is approved for: Sporting, Terrier, Toy and Non-Sporting Groups, Best In Show (BIS), Conformation (Misc Breeds), Junior Showmanship (All Breeds) as of April 7th, 2017.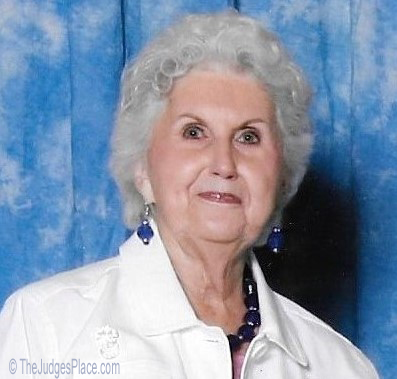 What was your first breed? First show dog?
ANN HEARN - My first breed was a Wire Fox Terrier. He was loved a great deal, but not much of a show dog. What did I know? So, I went to the Atlanta Kennel Club show which was then held in the Atlanta Auditorium downtown. I wanted to learn why 'Chester' didn't look like the pictures of a show dog. I found a breeder who lived in Marietta, GA and bought a very worthy bitch from her. She also started me on my way learning to strip a Wire coat."
Where you an owner handler or professional handler?
ANN HEARN - Mainly, I handled my own dogs, but frequently would take someone else's dog to the shows if they couldn't get there.
Which dog was your favorite or your top record holder, winner, or producer?
ANN HEARN - My children, Joli and Lori, saw a picture of a Bichon on the cover of Life magazine with Ric Chashoudian and nothing would do but we get one. The Wires were a bit feisty for young girls who were prone to open the wrong door at the wrong time! Fight Fright! Found a cute little quality Bichon bitch locally and finished her and some of her children, but then I met an exhibiting and winning breeder in the Chicago area, Marie Winslow, and got a bitch from her that was to die for. Everything that little girl produced ended up a champion - if I was able to get the owners to let me show it. She produced: Ch. Jalwin Just A Jiffy who went on to be a Great with Toddie and Houston Clark making him #One. He was owned by Pauline Schultz who used Jiffy to produce some more beautiful Bichons.
When and why did you decide to become a judge?
ANN HEARN - From the first dog show I went to lo' those many years ago, I wanted to do exactly what the man in the middle of the ring was doing, and that was getting to put his hands on and 'play' with every dog. That was Bob Moore from Atlanta. I saved every piece of paper, every catalog where I had gone, every person I talked to about different breeds until I felt I could face the gauntlet and request for judging status.
For which breeds were you first approved and in which association?
ANN HEARN - AKC approved me for Wire and Smooth Fox Terriers and Bichons on 2/15/84. At that time, Wires and Smooths were considered a variety, so to speak. Even beyond the coat differences, we knew they are more like siblings (different fathers, maybe?) than paternal twins. But, I now see the Smooths blossoming out into their own full-fledged breed – and a lovely breed it has become, much thanks to Amy Booth.
Do you still breed and if so, do you owner handle or use handlers?
ANN HEARN - To bring you up to date, after the agonizing work-filled efforts to present a beautiful Wire Fox Terriers (still my heart), and the amazingly soft and gentle, high maintenance of the Bichons, my good friend Marcia Tucker from Leesburg, FL encouraged me to get a "shave and bathe" Miniature Pinscher. I did, and honest Marcia gave me a Gorgeous bitch (KK). Marcia did all of the breeding and whelping because by that time I wasn't home enough to take care of puppies. I had handled KK a bit (which seemed to give the audience a good laugh! She had long legs and could fly!). We got some lovely puppies from "KK" and I got one of the bitches. Marcia handled "Suni" to her championship and then the breeding of her and she produced several eye-stopping boys. Suni is the most athletic, healthy dog I've ever seen. She can leap tall buildings with a single bound, I swear she can!
What do you do in your other life? Profession, Hobby?
ANN HEARN - I finally retired from the 9-5 Rat Race of administrative and Executive Director positions I held, mostly with Emory University and Hospital, and spend my time beading, reading and causing havoc within my family. I don't want anyone to get complacent!!
Have you judged for other countries or registries; if so, what, where?
ANN HEARN - I've judged everywhere in the World, except South America and Ireland, I think. Pretty Neat, if I do say so! Love, Love Christ-Church, New Zealand. But, I can't talk my family into all of us moving there and I can't leave my sister, daughters and grands – EVER! I also judge for UKC, ICE, and IABCA and a few others that are just trying to get started. Exposure in these Registries is wonderful as I'm an All-Rounder with them and I get to judge ALL breeds, of which there are a great many more than recognized by AKC. These organizations sort of work in a line with FCI.
What do you enjoy the most and the least about judging dogs?
ANN HEARN - I bet you 99.9% of judges say the same thing! The TRAVEL is a real 'hitch'!! You can't go through Atlanta at certain times of the day and night due to the traffic, so all of my flights must be in this narrow little window in the middle of the day. Not always very convenient. The flights, time constraints and physical running to a gate may make me a bit grumpy (Who, Me? Naw!!) but the minute I step on the show grounds and see all of my dog "family" and get to smother love and appreciation over all of my entries – Man! It was all worth it.
What is the nicest and the most inconsiderate thing kennel clubs do for judges?
ANN HEARN - Let me tell you – Clubs are going out of their way to be accommodating to judges. It's like Royalty. The only problem I run into is not always having a decent restaurant walking distance from the hotel/motel.
Do you plan to apply for additional breeds and how do you feel about the current policy?
ANN HEARN - I may have to give this question a bit of the old soft shoe. I'm not sure if I'll apply for addition breeds, although there are SO MANY breeds I'd love to judge. I mean – what's not to love about a Great Pyrenees, Great Dane, GSD (and who found 'Rumor' when she was just a baby?). Look at all the Beagles I handled. Shelties, Collies and the aloof Afghans and Salukis. . .. I could probably end up naming every breed (well, except for one or two that look like I'd be a tasty cream puff to them!) I haven't met a breed yet I didn't admire and want to touch.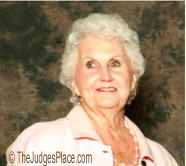 Are you a Delegate and if so, for which club and does the club instruct your vote?
ANN HEARN - No, I am not.
Should clubs host more events such as coursing, earthdog, weight pulling, etc.?
ANN HEARN - Absolutely, if at all doable, I believe every possible exercise, event and competition should be offered. Dogs just love it! More work for the Clubs and with the main group of Club workers becoming smaller and older, this is a real problem. Possibly, a group of enthusiasts of these programs could go around to shows and be the 'instigators and workers' of these events and take a portion of the money earned.
What is the one thing exhibitors should do - and should not do in your ring?
ANN HEARN - Well, if my exhibitors don't have a good time in my ring, then they've definitely got something wrong with their giggle box! I love to tease them, help with a learning entry, and joke with everyone. I have so many 'gotchas' on so many handlers and exhibitors - I don't ever forget to remind them of their past boo-boo!
What do you look at first when you turn to assess a class or group?
ANN HEARN - My eyes scan for the type I like, but I don't miss the one that is good looking and bigger or smaller than I prefer. I don't want to lose a good one due to the comfort of 'habit'. There have been many times when I've said to myself – uhh, this isn't going to be easy – they're all so nice. It's then that I have to get down to the nitty-gritty, picky, picky stuff. As Ric Beauchamp used to teasingly say: If it's got a black toenail and the others are all white – Out it Goes!
Which is more important, down and back or around, and what are you looking for?
ANN HEARN - Annie Clark said to me at the beginning of my judging approval; The side movement tells the story. However, she was also insistent that the down/back be acceptable. So, if I can live with the down and back, and still can't make up my mind, I let that side picture be the deciding factor. I have to say, tho – there are some breeds that have criterias that are more important than the Annie "laws", and I have to go with that. Who can disregard a Bull Terrier head that is so perfect you could just weep with it's beauty?!
Do you evaluate puppies as puppies or strictly according to the standard?
ANN HEARN - In the breed lines that I am knowledgeable, what I can see, from experience, in a puppy that hints it might grow to be more or less than what I want, and according to the expectations of the breed, these will help determine if this one is a "keeper". Evaluating puppies as puppies involves the heart and doesn't always help you in your breeding program.
In closing, do you think the Registries are doing enough to promote well bred purebred dogs?
ANN HEARN - Many, many years ago, I had some entries all from the same people that caused me to wonder if they were long legged Lhasas or short legged Tibetan Terriers, of which these people showed/bred both. The fact that the owner/handlers had the same hair color as the dogs was sort of a dead giveaway to me. I excused. And, that pretty much is the only recourse a judge has to make a statement. But, I think the registrations of all dogs is done as carefully as possible and short of DNA-ing all dogs at this point in time might be a bit much for everyone.
Do you think the sport and/or the dogs are better or worse than 20 years ago?
ANN HEARN - That's sort of an unfair question. It's like asking: Are the ladies fashions better now than they were 20 or more years ago? I see pictures of Poodles that were top winners from back in the 40's and - No, in today's image of a gorgeous Poodle, they had way too much coat back then (and no spray, I betcha'!). Bulldogs weren't as 'bully' back then as now. ('Bully' doesn't necessarily mean size.) IMHO, in the past 20 years, Yes, so many breeds that were still establishing their "type" have improved 110%, I'm happy to say.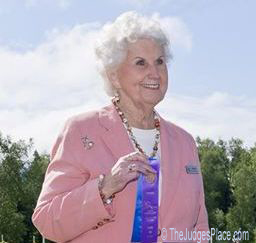 Look at Bichons! Gracious, they are angelic looking now as compared to when they first started appearing in the ring. However, I must interject a REAL personal opinion. Our Bichon breeders need to be a bit concerned with the size of the cranium – the eyes go fully on the front of the face because the skull is large enough to accommodate them, not wrap to the side due to a smallish head. I'm just saying...
What advice would you give to today's aspiring judges?
ANN HEARN - You MUST have thick skin 'cause when you don't put up your best friend and his/her feelings are hurt and they show it, you have got to still feel justified in your choice. If you love to travel, being away from home, fight traffic, deal with the tension of getting additional breeds, wonder why another suitcase bit the dust, by all means – Do It – you'll have such a rewarding experience every weekend you will wonder what you did to deserve it all!
Thank you for taking the time to share your judging wisdom.... Sadly, in November 2018, we lost AKC judge, Ann Hearn Obituary
TheJudgesPlace.com EST 2005 © 17041812 http://www.thejudgesplace.com/Meet-Dog-Show-Judges/Hearn-Ann-1704.asp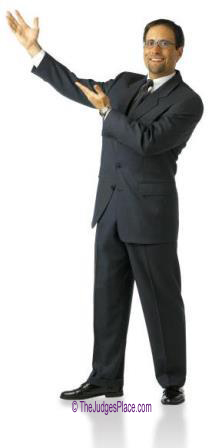 The Ring Steward says "Go back to Meet The Judges!" We invite you to read interviews with other prominent AKC judges and Judging Legends. As you attend shows this year, make mental notes about who you will nominate next year!
Courtesy NetPlaces Network, World's First Online Purebred Dog Information
The world's 1st public website (TheDogPlace.org) from Animal Health to Vaccines.
The world's 1st online dog news, (TheDogPress.com) from AKC records to zoological news.
The world's 1st site by/for dog show judges (TheJudgesPlace.com) educates on purebred dogs.