DR. RICHARD GREATHOUSE, M.D.
AKC Judge Approved for: All Hound, Working, Terrier and Herding Breeds
Dr. Richard Francis Greathouse died October 7, 2015, of heart failure, in Bardstown, KY, he was 92.
Richard Greathouse, M.D. was interviewed by National Pet Press in 2008. We reprint with permission from the newspaper and Dr. Greathouse. There is much to be gleaned here for breeders and exhibitors but there is also a message here for other judges.
DR. RICHARD GREATHOUSE, M.D. needs no introduction among dog fanciers but here are some things you may not know about the distinguished Kentucky gentleman.
Dr. Greathouse has been judging for forty nine years but no, he's not All-Breed judge. He's content to adjudicate Hound, Working, Terrier, and Herding Groups, plus some other breeds.
He is also one of the most popular judges amongst the Junior Showmanship crowd. In fact, he told us about a unique program for young people.
I recently did a 'Junior Judging Contest' which I believe was first done about twenty years ago at the Chicago International show. We had about 20 kids come in and judge some Borders, Collies, Boxers, and Staffordshire Terriers. After I had gone over the dogs and given my anonymous placements to the Steward, the Juniors came in and judged the same dogs.
"Then they sat down at the AKC table, wrote down and justified their placements. They were given a grade from 0 to 100 and the highest scoring kid won the contest. I hadn't done that program before but I highly recommend it to other clubs.
"It's based on the 4-H judging for live-stock and the 4-H club was involved in this. In fact, it wouldn't hurt for the American Kennel Club to have their prospective judges do this."
Dr. Greathouse began showing Rough Collies in 1954 and still supports the breed as one of the founding members of the Collie Health Foundation. Although he later used professional handlers, he was a successful owner-handler and always gives consideration to a novice handled exhibit.
When the Working Group split into Working and Herding, Dr. Greathouse judged the first Herding Group at Westminster in about 1984.
You might have seen him on TV in the boxing ring - as ring doctor. His medical specialty is Sports Athletics. He was on the Kentucky State Athletic Committee along with Fred Lampson, who was Chairman… and who showed Collies.
Dr. Greathouse also took care of All Breed Judge Joe Gregory's Kentucky Colonels, an All Star high school basketball team.
Asked about his personal dogs today, he replied "We have the Norwich Terrier and Papillons. In fact, we have three Norwich pup-pies right now and they are probably the best I've seen in twenty years. Most people don't want to put in 3 - 4 hours a day working on the coats nowadays."
"By the way, my wife and I enjoyed the Therapy Dog story in the last paper. We have a Newfie Therapy Dog. He's absolutely the sweetest dog and he helps my wife in many ways."
We're glad you like the paper! And you are right; Newfoundlands really are wonderful! Tell us, which breed do you think is most improved? "Probably the Smooth Collie but 'shoe button' eyes can ruin the expression."
Well, what's the most important physical characteristic you look for in a dog? "Type and overall balance, when assessing a dog, a class or a Group lineup."
Do you evaluate puppies as puppies or as adults when selecting Winners? Both! I see puppies as puppies but if they are good enough, they can win."
Handlers, pay attention. The most annoying thing exhibitors do is "Throw liver as bait."
My next question brought an equally succinct answer. What is the most important thing exhibitors should do? "Show a really good dog…"
An in-demand judge, he prefers to drive but flies to distant assignments including inter-national shows. He appreciates having good quarters (accommodations) and being picked up on time.
So what is the most in-considerate thing a club can do to judges? "Ignore hospitality. And condone the breeding of bad dogs nowadays."
Is he a Club Delegate? "I was Delegate for the Louisville Kennel Club for seven years. Biggest waste of time I ever spent in dogs!"
Dr. Greathouse, what advice would you give aspiring judges? "Mentor with knowledge. Your experience, good breed knowledge, and studying good dogs will lead to becoming a good judge."
We talked for a minute about days gone by, opportunities and people missed. Bobby Barlow was one of my handler heroes and turns out, someone deeply missed by the Doc. When Bobby quit judging and went back to handling, I interviewed him. (see ProFiles - Mr. Bobby Barlow).  Those were good times. We talked to Bobby frequently and the last time, he seemed in good spirits but the very next week, the cancer took him. His untimely death was a huge loss to the sport.
On that sad note, the Doc shared one last bit advice - "Don't look back."

He's right. We'll treasure our friends in the sport. We will learn from each other and from our mistakes but we'll look to the future.
Thanks Doc…
Interviewed by Barbara "BJ" Andrews - Publisher National Pet Press, author of seven breed books, and dog publications columnist since 1968. BJ and husband Bill (deceased) have bred over 260 AKC Champions, and over half of the all time Top 10 ROM Akita sires and dams.
http://www.thejudgesplace.com/Meet-Dog-Show-Judges/Greathouse-Richard-087.asp #087.134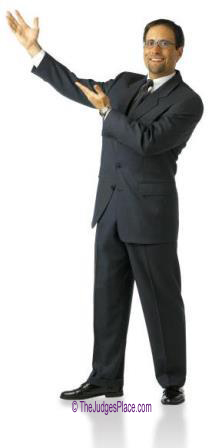 The Ring Steward says "Go back to Meet The Judges!" We invite you to read interviews with other prominent AKC judges and Judging Legends. As you attend shows this year, make mental notes about who you will nominate next year!
Courtesy NetPlaces Network, World's First Online Purebred Dog Information
The world's 1st public website (TheDogPlace.org) from Animal Health to Vaccines.
The world's 1st online dog news, (TheDogPress.com) from AKC records to zoological news.
The world's 1st site by/for dog show judges (TheJudgesPlace.com) educates on purebred dogs.