John R. Boozer, III
Multi-breed AKC Judge (November 1, 1944 - November 16, 2022)
Interview by Tam Cordingley, CSI Instructor/UKC Judge
It is with sadness I announce that my very dear friend John Boozer died November 16, 2022 at the age of 78. Click to read his obituary.
As we look around ringside and note the vigor and health of elder judges, we should count our blessings that we are a part of showing dogs. There's much we can learn from those senior judges who remain involved and engaged. Dogs do keep us healthy!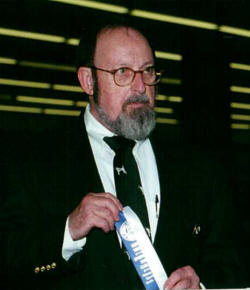 TDP: In which type of judged dog activity did you first compete? Obedience, Conformation, or Performance such as agility or field work?
JRB: Conformation
TDP: About when was that and with what breed?
JRB: 1966/ Bull Terrier
TDP: Did you owner handle? When did you begin to use handlers?
JRB: I never used a handler.
TDP: What is/was your primary breed and how long were you involved?
JRB: Since 1973 until the present, I have been mostly involved with Smooth Fox Terriers.
TDP: In what single area has that breed most improved?
JRB: I think temperaments are better than they once were.
TDP: What is the biggest problem you see in the breed today?
JRB: Shoulders are not laid back as called for in the standard, upper arms are too short, and the whole front assembly is placed too far forward. When this is coupled with too much rear angulation, movement, which the standard says is the critical test of conformation, suffers.
TDP: Do you have a "personal" dog now and if so, what breed?
JRB: The new 'love of my life' is a Miniature Wirehaired Dachshund.
TDP: Do you own other animals? If so, what?
JRB: I still own some older Smooths, but don't plan to breed or show them again. I am actively involved in breeding and exhibiting Beagles.
TDP: Do you think the purebred dog is better today than it was 20 years ago? Why is that?
JRB: In some ways yes and in other ways no. I think that we are loosing many good old breeders who really understood structure and anatomy and tried to produce good dogs and are being replaced in many cases by people who just want to WIN and don't really care about producing good dogs. I do think that great strides have been made in genetic testing which helps produce healthier dogs and that nutrition is much improved also. When I see pictures of dogs from 30 or 40 years ago I think that they are better in many breeds but ground as been lost in others.
TDP: Which do you feel is more important in a breeding program, the dog or the bitch? Why?
JRB: I feel that a prepotent bitch is the greatest asset to anyone's breeding program.
TDP: When considering a breeding, which do you look at first, pedigree or physical virtues?
JRB: I evaluate both, but one needs to be aware of the physical faults and virtues in as many of the ancestors in the pedigree as possible.
TDP: What is the single most important physical characteristic you look for in a dog?
JRB: I want a healthy, sound animal that conforms to my interpretation of the standard. I try to judge the dog as a whole, not just identify the faults or virtues.
TDP: In what field are/were you employed outside of dogs?
JRB: Information Management
TDP: About how long have you been judging?
JRB: I was approved in September 2002.
TDP: How many breeds (or groups, depending on who it is?) are you currently approved for?
JRB: Presently I am approved for 6 breeds, Beagles, English Foxhounds, Smooth and Wire Fox Terriers, Irish Terriers, and Pembroke Welsh Corgis.
TDP: Do you plan to apply for more breeds/groups?
JRB: Eventually I would like to be approved for the Terrier and Hound Groups.
TDP: Which breed (or group) do you personally enjoy doing the most?
JRB: Presently I am enjoying judging the Corgis, a new challenge.
TDP: What is the most annoying thing exhibitors do?
JRB: Interfere with others exhibitors, ie. Running up on someone else or allow their dog to distract someone else's dog.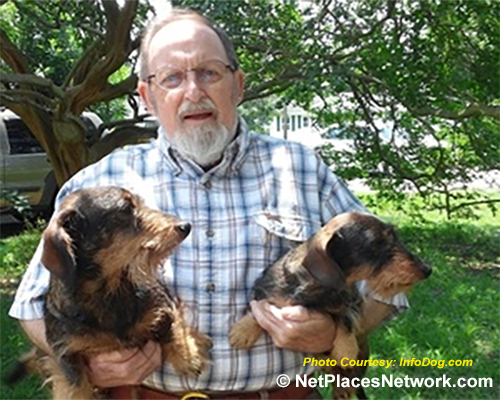 TDP: What is the most important thing exhibitors should do?
JRB: Pay attention to ring patterns, judging procedures and not having to have the judge explain the same thing to every exhibitor.
TDP: Do you most often fly or drive to your assignments? Which do you prefer?
JRB: Usually drive, which I prefer to do.
TDP: Have you judged in another country, if so, where and which breeds?
JRB: Not yet.
TDP: Have you judged for another registry, if so, which one and which breeds?
JRB: No
TDP: What is the most inconsiderate thing a kennel club can do to its judges?
JRB: Not giving proper information about directions to show grounds or accommodations, making thing rougher on someone who has just completed a long and often tiring trip.
TDP: What is the most appreciated thing a kennel club can do for the judges?
JRB: Giving a cell phone number for emergency contacts.
TDP: What do you look at first when you turn to assess a class or group?
JRB: I try to look at my whole class of dogs as they come into the rings and then do a back by to evaluate them before moving. I try to see the dog as a whole.
TDP: Do you evaluate puppies as puppies or as adults when selecting winners?
JRB: I judge the dogs as they appear before me, not what they might become or in some cases, have been.
TDP: What advice would you give aspiring judges?
JRB: Start learning as much as you can, as early as you can. Pick mentors in many breeds and learn as much as you can about breed type, structure, and movement. Also, don't try to judge too many breeds, only what you feel comfortable with, but don't wait too long to apply before the process to become a judge take a long time. John R. Boozer, III
TheJudgesPlace.com EST 2005 © Jul 2006-134 http://www.thejudgesplace.com/Meet-Dog-Show-Judges/Boozer-John-067.asp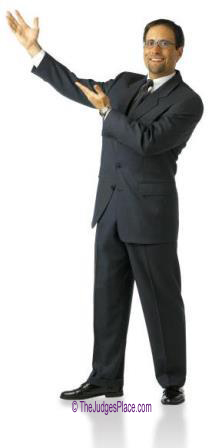 The Ring Steward says "Go back to Meet The Judges!" We invite you to read interviews with other prominent AKC judges and Judging Legends. As you attend shows this year, make mental notes about who you will nominate next year!
Courtesy NetPlaces Network, World's First Online Purebred Dog Information
The world's 1st public website (TheDogPlace.org) from Animal Health to Vaccines.
The world's 1st online dog news, (TheDogPress.com) from AKC records to zoological news.
The world's 1st site by/for dog show judges (TheJudgesPlace.com) educates on purebred dogs.