MANNERS IN THE SHOW RING
Sherry L. Shivley, a NetPlaces Network Journalist Award Winner
Mind your manners because courtesy in and out of the show ring defines who you are, how the sport is perceived and what you project to the judge – quick tips.

Handlers have been suspended by the AKC for foul language and improper actions in the ring while showing. Why is it now fashionable to spew forth all your disdain and hate in the show ring or while waiting at the gate?
It is not OUR RING. It belongs to the Judge while they are judging the dogs. When you vomit filth and direct your hate filled thoughts at another exhibitor, you are directing them also at your Judge, who should be garnering your RESPECT.
Recently a few of my friends drove several thousands of miles to a Specialty show. They were having a wonderful time reconnecting with those they had not seen in several years. But then this person showed up and began bullying them, calling one of my friends what a female dog is commonly called. This was only minutes before the first class was called.
This person had my friends upset as well as everyone around them. The only reason we can see for that kind of behavior is jealousy. With those other dogs from out of the area there, their chance for winning went down.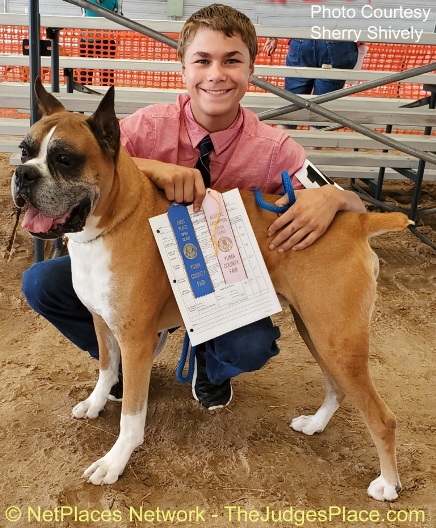 Unfortunately, this is the new world way of handling feelings. We don't hide our disappointment, congratulate the winners, and move on. We want that trophy whether we deserve one or not. Polite and well mannered Jarrett Miller "respectfully" wins Reserve Champion at the Yuma County Fair, with Sherry Shively's Boxer CH. Hunter Creeks Kachina Dancer At Hobby Horse Ranch. This was Jarrett's first show.)
As parents and teachers, we have failed our children when we decided that Everyone Is A Winner! If our child is not handed a medal or ribbon the same as the Junior Handler who worked and trained every day, it is detrimental to the entire sport of dogs.
What does it teach the child who has worked so hard to be on top? Why bother? Everyone is the same.
Children are not taught manners in todays society - to open doors, take off hats, shake hands, proper way of greeting, or to send thank you notes. Bad behavior shows up in many sports today, including our dog shows.
It saddens me that our Dog Show Sport is becoming nothing more than a street brawl. It once was a family event where we pulled out our best clothes, good manners and behavior. Today the cutthroat mentality has taken over and I question whether Juniors should be exposed to adults having adolescent tantrums.
Please, think before you act or speak. Be kind. Congratulate the winner and as you leave the ring, thank the Judge and the Ring Steward. Be someone you want your kids to be.
See ya around the ring.
TheJudgesPlace.com EST 2005 © 1912 http://www.thejudgesplace.com/Exhibitors-view/Manners-in-the-show-ring-s19Sh12.asp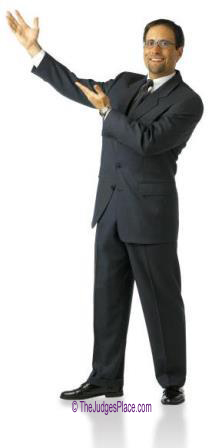 The Ring Steward says "Go back to Exhibitor's View From Ringside!" We invite the judges to learn how their Judging is viewed from ringside. Dog Show Exhibitors, Handler Interviews, Opinions, and Observations shared by those outside the ring.
Courtesy NetPlaces Network, World's First Online Purebred Dog Information
The world's 1st public website (TheDogPlace.org) from Animal Health to Vaccines.
The world's 1st online dog news, (TheDogPress.com) from AKC records to zoological news.
The world's 1st site by/for dog show judges (TheJudgesPlace.com) educates on purebred dogs.