JUDGING APPROVAL SURVEY SURVEYED
Did you receive the AKC Judging Approval Survey Letter? Here is the original survey and TheJudgesPlace invites you to publically (or privately) respond.
The Judging Approval Survey was apparently to go to everyone who shows dogs but somehow, that didn't happen. Even those who managed to get a copy are confused. Since Alan Kalter (AKC Board Chairman) and Carl Ashby (AKC Director) say pass it on, we will but with the stipulation that no one in the NetPlaces Network received the survey AND that we have heard from many clubs, judges, and VIPs who did not receive the survey.

Is this an indication that AKC failed to send the Judging Approval Survey Letter to any group or publication they thought might actually offer constructive criticism? You decide but in fairness, we want to give everyone an opportunity to weigh in on this important issue. If you judge or show dogs this affects you. You may also email the editor

privately to submit additional information or documents for follow-up coverage.

As received from one of our readers:

From: "Carl C Ashby carl@ashby3.com [akc-delegate-l]"

Subject: [akc-delegate-l] judging approval letter/survey

Date: October 29, 2014

To: (name withheld) akc-delegate-l@yahoogroups.com

Reply-To: Carl C Ashby

(---) and Fellow Delegates;

The intent was to send to the email addresses of record for all Parent and All Breed Clubs, Delegates, Judges, Exhibitors, etc. The broadest input possible is being sought in order to strive for the best process possible in an imperfect world. There is no survey simply the opportunity to study the proposal and provide "free form" feedback. All input is valued and will be considered. The Board is actively involved in its evaluation as well as development of the proposal being circulated.

If a person who should have gotten the email didn't please forward this to them. It was not the intention to limit comments but rather to aggressively seek them. I have pasted below the email from Alan and urge you to forward, respond, etc.

The AKC Board has been evaluating a variety of possible changes to the Conformation Judging Approval Process. During our study, we received input from a variety of sources. One example involves the breed educational components, which were established based on a poll of all Parent Clubs.

We now need your insightful personal comments and suggestions regarding the proposal. Attached are four documents that fully explain the proposal: an overview of the proposal, the detailed proposal, a judges education component matrix, and a Frequently Asked Questions document.

Please review all the material and let us have your comments, suggestions, questions, and overall agreement or disagreement with the proposal as it stands today. Simply respond to this email at this address with your thoughts.

We have established a 21-day comment period to give the necessary time for due consideration and comment. Please respond no later than Tuesday, November 18, 2014. This will allow for a careful analysis of all responses prior to the December Board meeting.

Since we are requesting input from as many participants as possible, please feel free to pass this on to others. Thank you for your help and guidance in this important process.

Sincerely,

Alan Kalter

AKC Chairman

Overview of the Judging Approval Process Proposal

FAQs on the Judging Approval Process Proposal

Judging Approval Process Proposal

Sample – Education Component Matrix

Carl C. Ashby

Delegate

United States Kerry Blue Terrier Club

At this point we make no judgment on the intent of the Judging Approval Process Proposal. If it is not merely a deflection on a longstanding problem, we support a study but with this caveat –unless and until judges are given the freedom to put aside every consideration and just judge the dogs, nothing will change.

Everyone complains about the judging. Losers have always done so but today judging is seen as so blind and/or corrupt and so few capable judges under whom they can enter that they are leaving the sport.

The vacuum of seasoned exhibitors is replaced by professional handlers but that creates another problem. When owner handlers were in equal or greater ratio to pro handlers, speaking from experience, we had an equal chance to win with a decently presented dog. That is no longer the case and thus, owners hire a handler, or through political and club affiliations they are able to win under some judges, or they leave the sport. Numbers don't lie.

What top judges thought about the approval process in 1996? ~ 2013 AKC Judges Approval In Disarray

Steve Gladstone on Current Judging System

TheJudgesPlace.com EST 2005 © Nov 2011-1612 http://www.thejudgesplace.com/Exhibitors-view/Judging-Approval-Survey-Surveyed-1411.asp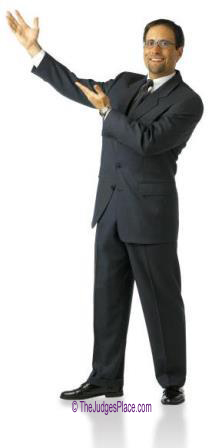 The Ring Steward says "Go back to Exhibitor's View From Ringside!" We invite the judges to learn how their Judging is viewed from ringside. Dog Show Exhibitors, Handler Interviews, Opinions, and Observations shared by those outside the ring.
Courtesy NetPlaces Network, World's First Online Purebred Dog Information
The world's 1st public website (TheDogPlace.org) from Animal Health to Vaccines.
The world's 1st online dog news, (TheDogPress.com) from AKC records to zoological news.
The world's 1st site by/for dog show judges (TheJudgesPlace.com) educates on purebred dogs.