EDD BIVEN, JUDGE WITH A SENSE OF HUMOR
Judging Highlights As Seen From Ringside 
Edd Bivin is seen as a serious judge, absorbed in his ring, and in great demand as a judge who knows dogs. All true, but he has a delightful sense of humor...
This happened around 1984-85. I had gone to a Chow Specialty in Dallas. The hotel that was holding it was the Greenwood Inn and it had (as you have seen many times) a huge Ballroom for this Specialty, divided it into two rooms.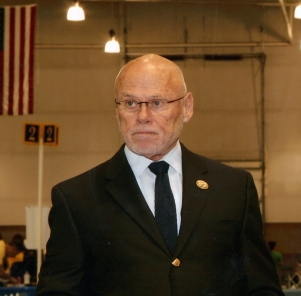 Chow Chows are very quiet and we could hear nothing from whatever was going on in the room next door. The judging went smoothly, until the winners bitch class came into the ring. Mr. Edd Bivin was in the center of the ring and he called to come to center whichever dog he wanted to see at that time.
He looked at the 6-9 puppy bitch and called her over to go down and back, she did, (very quite in the room). He then went to the Open Black, down and back, (very quite) then to the Open Red, down and back she went with not a sound from Chow judging in the room next door, and no applause in our room.
Then he looked at the 12 -18 and called her out. As she stepped out of line an outburst of song was heard! Hallelujah! Hallelujah!
The lady handler stopped mid stride! Mr. Bivin called her over to gait the dog again. She went down and back and back into line as had the rest.
He then went to the Open AOC and had her go down and back, very quite again. Mr. Bivin looked at all the dogs and then once again called the 12-18 out.
The second she stepped out of line "Hallelujah! Hallelujah!" once again rang out from next door! Edd Bivin said "I guess that says it all. Winner's Bitch!" This is really my favorite judging story.
Meet Edd Embry Bivin in this in-depth interview ~ On a sad note: Irene Bivin lost her battle with cancer. She passed away Sept. 8, 2008 and we're told she went gracefully with Edd at her side. ~ BJ Andrews
TheJudgesPlace.com EST 2005 © 2008-1341521710 http://www.thejudgesplace.com/Exhibitors-view/Edd-Bivin_Perkinson-08.asp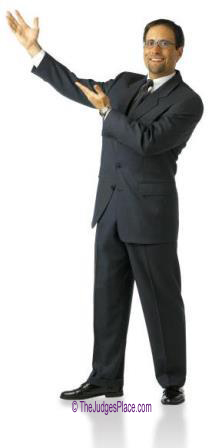 The Ring Steward says "Go back to Exhibitor's View From Ringside!" We invite the judges to learn how their Judging is viewed from ringside. Dog Show Exhibitors, Handler Interviews, Opinions, and Observations shared by those outside the ring.
Courtesy NetPlaces Network, World's First Online Purebred Dog Information
The world's 1st public website (TheDogPlace.org) from Animal Health to Vaccines.
The world's 1st online dog news, (TheDogPress.com) from AKC records to zoological news.
The world's 1st site by/for dog show judges (TheJudgesPlace.com) educates on purebred dogs.