CARLA AND JOE SANCHEZ
Southport Mastiffs ~ Est. 1982
Joe Sanchez III was lost to the dog fancy March 2, 2017. It was sudden, unexpected, tragic. We thank Mrs. Sanchez for granting this interview. Carla Sanchez speaks for them both.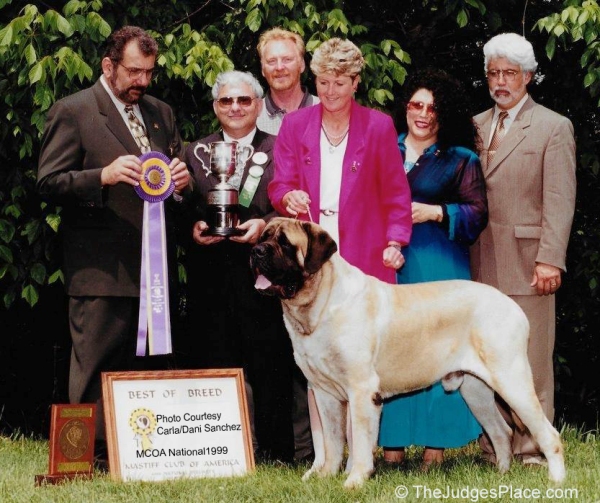 What was your first breed? First show dog?
Mastiffs.
Do you owner handler or employ professional handlers?
Both. I owner handle and employ professional handlers for our special's dogs. Joe and I would show and finish our class dogs and then when there was a dog that was going to go beyond that point, we would have our handlers, Jorge and Susie Olivera take over and hit the "dog show road".
Actually when we started out, we had no professional handlers, we would "special" our own dogs, even travel with them in an attempt to get away from the heavy California WORKING GROUP competition. We did this for about the first 12 years of being in Mastiffs.
Joe decided he no longer wanted to show in the working groups any more, he wanted to hire a handler. I suggested advertising and we'd personally continue showing our dogs. But, he said no, he didn't want to me to advertise him; he just wanted to kick back and enjoy the show and watch his dogs. He no longer wanted to do all that work only to be "passed by" over and over again by the group judges.
Then came about the task of 'WHO DO WE HIRE?" I wanted to hire a particular lady that I had seen around the rings for many years. She was so loving and great with the dogs, I had watched her show a mastiff and all she did was pay attention to that dog, at that moment in the ring. I told Joe, so the handling team of Gretchen and her husband, Bruce Schultz became our full time handlers. Her first Southport Mastiff was our bitch Champion Southports Iron Maiden, aka Maddie. This was back in the 90s.
Do you do other dog sports such as Agility, Field Trials, Obedience, etc?
In the beginning, we showed our Mastiff Byron, Ch. Stonebrook Southports Byron, (MCOA HOF) in Obedience Matches at the Hangtown Kennel Club, close to Sacramento where we lived in "82-85". And he did very well (he loved the long sits and downs!) But I was never able to take him on for his OB title because several people told Joe if I continued to show Byron in obedience he wouldn't be a good show dog. And so, our obedience work came to an end. I was happy though, that we had taken the classes as this made for a much better companion and I used that same training for all my future Mastiffs. I highly recommend OB classes!
Which dog was your favorite or your top record holder, winner, or producer?
My first Mastiff, Byron was my first love and favorite. BIS/BISS Ch. Southports Sherman (MCOA HOF), his grandson, was our top winner, and Ch. Southports Prime Time "Pete" (MCOA HOF) was my top producer (also a Byron Grandson). I love the fact that the "blood" of my first love, Byron runs though the veins of most of my Mastiffs of today.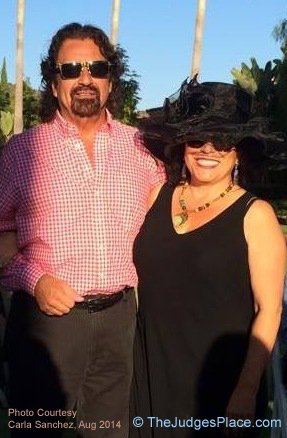 Do you owner handle or use professional handlers?
BOTH. I enjoy showing in the classes and so though the years, Joe and I would owner/handle our class dogs. Of all our children, only our youngest, Danielle Carleen aka Dani, has joined us in the ring! However during the summer of 2016, I moved (it was a big move) so, Jorge and Susie Olivera finished a few of my dogs. Did I miss not handling them myself? YES, I DID. But the show must go on.
What do you do in your other life? Profession, Hobbies, Activities?
Dog Showing is our passion and our biggest hobby. But we have a large growing family and between all of their activities, there are 365 days of Family get-togethers! Entertaining, Joe and I used throw big parties (I mean over the top). My husband loved to have these "Grand Affairs" and it gave him great pleasure. We loved to travel to our favorite places…we both loved going up North to Carmel. We also loved Big Bear, here in SoCal where Joe was able to relax and really, really sleep. Our best friends, Bob and Stephanie Yurkovich lived up in NorCal and so (up until recently), we had a wonderful home "on the Delta Loop" in Isleton. Hawaii too is one of our favorite places. We truly enjoyed the tranquil beauty of Kauai. And then our dog show friends, the Lum's, were on the island of Oahu. We are now "family" as our daughter, Alix Jolie married their son, JD Lum. We have a blended family with eight children and eighteen grandchildren! Our youngest grandchildren are Charlotte Josephine born March 21 and Carter Joseph born July 3. Our youngest child, Dani and her boyfriend, Tim Hall have baby Charlotte. And our youngest son, CJ and Heather have baby boy Carter, who joins his big sister, 5 year old Ella Jolie. We even have two great-grandchildren. Joe's first grandchild, Deanna has two children of her own now. It's a huge family.
We have our company, Classic Distributing and Beverage (beer distributorship) and a few other businesses, so we are pretty busy.
Oh, I can't forget about my cats, I love my cats, I will never be without a cat, ever! They are cats I have adopted from the local shelters. We have owned two Rag Dolls which we purchased from local breeders. My favorite was my beautiful Calico, Carmella. I called her "The Queen Kitty of Southport", she had the run of the place and was in charge of all Mastiff Training! She lived to be just shy of 22 years old. I'm now thinking of getting a Maine Coon, they've always interested me.
Do you think the Registries are doing enough to promote well-bred purebred dogs?
I think our biggest obstacle is the dog legislation in California and other States. The counties/cities would limit you to four dogs and four cats and it did not matter if you lived on acreage or had a "postage stamp" size backyard. I've been looking into this once again and I have found that now, many places have lowered the limit to 3 dogs or 3 cats. Or even worse, a total of 3 (2 dogs and 1 cat or any combination as long as your total is 3). Which is just horrible!!!!
I don't know what else AKC can do except to keep promoting the public to 'Buy from a Breeder and NOT A PET SHOP'. Perhaps we can target the elementary schools, public library, pet hospitals or create a new form of public awareness in some sort of Town Hall presentations. Promoting shows like Westminster, and recently The Kennel Club of Beverly Hills is the best way to get the public aware of the sport of purebred dogs and the breeders who care and protect these breeds. The big Owner-Handler classes will also go a long way to bring the public into Dog Shows.
Do you think the sport and/or the dogs are better or worse than a decade ago? Why?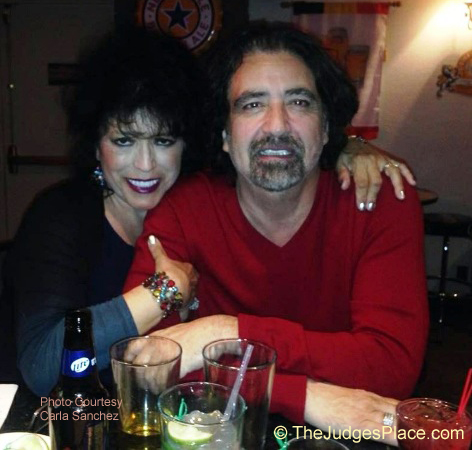 As far as my breed, the Mastiff, I think they get better and better every decade. When we got into this in the early 80's it was very common for Mastiffs not to move well; a lot of them were lame. I think they were plagued with hip problems and we've basically eradicated this from the breed by testing and selective breeding.
I am very pleased with our Mastiff breeders. As a breed, we have become much more competitive, our movement is better, we have great showmanship and more out-going happy dogs out there! Yet I don't think we've lost breed type which is most important.
As far as the sport of dogs, I think it's all very positive. AKC was trying to financially recover from the loss of revenue (created by the fabulous advancements in DNA testing) when they lost so much of the puppy mill population. I know it hurt AKC, but who needs that crap? Puppy mills with dogs in horrible conditions, mass producing them for pet shops, that's just bad news! I am quite certain all of us are glad they no longer register these poor dogs with AKC.
I believe the most profitable thing they've done was creating Select dog and bitch. The goal of achieving higher and higher "standings" with bronze, gold, etc. is so exciting for most people. Showing their dogs beyond their championships, trying to obtain these additional titles and you don't necessarily have to win the breed. That is the very best part! Owner-handler Awards is also wonderful for the people who are owner-handlers and that brings in more revenue as well. And the owner/breeders love it!
What advice would you give to today's aspiring breeders? exhibitors?
To the exhibitors – hopefully you've purchased a good dog from a good breeder. You need to take lessons in handling your own dog. If that's not your thing then hire a good handler, by good handler I mean, someone part of the AKC Professional Handlers Association. Or find a breeder who is willing and able to handle your new puppy for you. THINK OF THIS AS HIRING A CARE GIVER FOR YOUR CHILD. Be very aware, be around them, and don't just send your dog off with them. Observe them, watch how your dog is around them, in what condition is their set-up? Their trucks/RVs are kept clean? Or are they stretching themselves thin because they are alone and have too many dogs? Are they taking the very best care of your furry baby?
Some people want to show their own dog and are very capable so it's important that they get the correct handling lessons and it's very important to start when the dog is a puppy! That's when the dog will learn and you both learn together.
This is what I tell all my puppy buyers who want to show their dog - understand this, Dog Showing is the only sport where we can go out and compete with the professionals, the best of the best. You can't say "I'm going to go out and shoot hoops with Coby Bryant today. Or I'm gonna go play a round of golf with Tiger Woods" but in dog shows you can and you do week in and week out.
So understand that's who you'll be competing against and don't get frustrated, don't get mad, and don't make a big stink about it, that's what they get paid for and they've been doing it for years. It's their profession. When you and your dog win it is truly an honor.
People get upset about competing with handlers. Well, that's the sport. And we all need to understand and accept this fact from the beginning going into it. When I sell a puppy and the people show interest, I encourage them. And for most owners, getting through the classes and putting a championship title on their dog is what they want to do. Then they go home and put the AKC Championship certificate with the championship photo on the wall and that makes them happy. Then they've got their dog and he/she is still their companion for life.
What advice would you give to Breed Judges? Group Judges?
Breed Judges. When I have mentored with them, I often find, from whatever breed they come from, they tend to apply that part of their standard to our standard, for example "ears". If there's a very definite phrase in their standard about the ears and they are trying to apply it to the Mastiff, it is beyond ridiculous. If you've got a working dog in front of you, ask yourself, is he balanced? Sound? Does he have reach? Drive? Do you think he could do the job he was bred for? Concentrate on the structure of that animal and don't go around making a big deal about ears… Yes, we have a standard for the ears but it's a working dog. It's supposed to still be able to do its job. I say to Judges, leave your breed out of the picture in your mind and know the Mastiff standard.
Group Judge, a tough job, I don't know how anyone can stand there and judge each dog to the finer points of its standard. When I'm sitting ring side I look for the Show Dog and overall structural soundness, and some dogs just stand out. They're happy to be alive and out there. They watch their handler and they work as a team. That's what catches my eye. I am speaking of the Working Group - most of these dogs are derived from the Mastiff - and I don't know how you don't look out there and not judge each dog from its Mastiff origin?
Joe and I made it our goal to elevate the Mastiff in the minds of dog show judges so that when each judge is standing out there they are looking at the Mastiff. I don't want to hear the excuse "Oh, I liked your dog but there just wasn't any room." When you see an outstanding Mastiff; you need to make room for him or her in your group placements!
Our campaign was and is focused on elevating the Mastiff in the minds of these judges. I'm not talking about just Southport Mastiffs, I'm talking all Mastiffs!
In our early years, Joe and I would pack up our little girls and we'd drive to some obscure place hoping to get a group placement on our Mastiffs. I'm sorry to say it but any mediocre Dobie, Boxer or "more popular working breed" would take group placements and here we'd have THE TOP Mastiff and it's the backyard dog that won, sorry to be so crappy but it was true.
I will say this; I don't want any mediocre Mastiff to take a group placement. However, if they are moving soundly and they're showing nicely, if they're competitive, reward them. Obviously if you have an unsound dog, you do not reward it. But come on…in this day and age; You don't see unsound Mastiffs anymore.
What advice would you give to the AKC Board and/or Kennel Club officers?
AKC and Kennel Club officers should be very aware of and watch clubs/committee members that abuse the AKC Bench system. The Bench system is flawed whenever a bench committee will use the system to their advantage against (or for) a person. I've been very active and part of my breed club board for many years. I have personally implemented many of the policies we, the MCOA have in place today. Sadly, people can be bitter and small minded at times and it takes a selfless board to hold their committees accountable and not "look the other way" when it is clear that these positions of authority are being abused. I have watched the system used against people who aren't guilty but are being charged by a competitor and also people willing to use their new found "power" to protect a friend.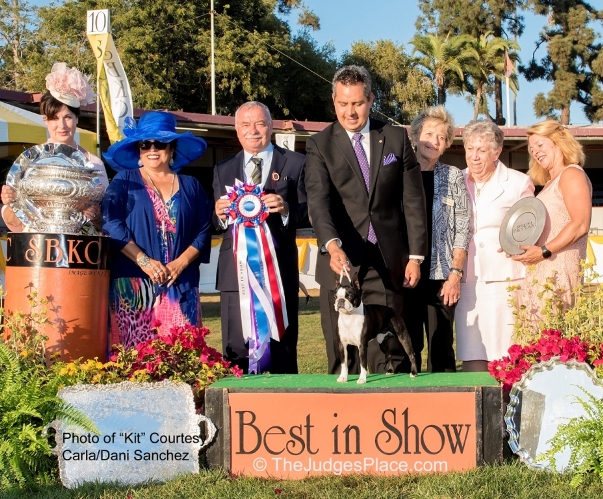 So, to AKC, when a club member writes to you explaining that they will not receive a fair trial at the hands of certain prejudicial individuals, perhaps you, AKC should listen and get involved. Also to implement a better system for Bench trials where often the individuals are all too familiar with each other (as competitors).
Final words or thoughts?
After being an exhibitor for so many years; I've always wanted to become a judge. However, I enjoy "Specialing" dogs so much that I have put off pursuing becoming a judge. I'm normally campaigning a Top Dog as with both the Boston and the Mastiff. Perhaps someday. I know that I am going to judge by the dog I like the best, not the handler or the owner; the dog alone. Even if my worst enemy came under me; I know I would give them the breed or the points because I am a true dog lover and one of my greatest joys is to watch an outstanding dog in the ring!
In the meantime, I just enjoy my dogs, they are my family. People ask me how I can live alone "way out there?" I'm not alone; I have 4 to 7 Mastiff's with me, how's that being alone? And I have my little dogs who will alert the Mastiffs immediately to any noise. And my cats ... believe me, if I walk in the door and the cats are all relaxed and kicking back, I know everything is OK. If there was someone in this huge house, they would all be on "high alert" and I would know that there is something happening to disturb the peace of my home.
Oh behalf of all our readers, judges, professional and owner handlers, we thank Carla Sanchez for opening up and sharing so much. It has been an honor.
TheJudgesPlace.com EST 2005 © Aug 2017 http://www.thejudgesplace.com/Exhibitors-view/Carla-Sanchez-Interview-1708.asp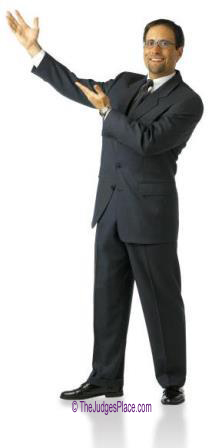 The Ring Steward says "Go back to Exhibitor's View From Ringside!" We invite the judges to learn how their Judging is viewed from ringside. Dog Show Exhibitors, Handler Interviews, Opinions, and Observations shared by those outside the ring.
Courtesy NetPlaces Network, World's First Online Purebred Dog Information
The world's 1st public website (TheDogPlace.org) from Animal Health to Vaccines.
The world's 1st online dog news, (TheDogPress.com) from AKC records to zoological news.
The world's 1st site by/for dog show judges (TheJudgesPlace.com) educates on purebred dogs.