Best And Worst
View Of The Show Dog By The Pro-Handlers
In 2001 we asked... What, if anything has improved about Show Dogs? If you average 20 or more dog shows per year, You tell us - BEST AND WORST OF SHOWING
ANDY LINTON answered "what's the best thing about dog shows today" as he stood ringside with Bill McFadden. "Friends like Bill here. Friends are it. That is the best thing about dog shows."
And what is it you enjoy least about dog shows? Pensively he replied, "The fact that a lot of people can't keep this winning and losing in perspective. And the emotionalism that is involved with exhibiting dogs and that it sometimes causes bad feelings."
JOHN ROBERTS answered quickly, "I think the clusters. I think they're bringing the people back together, where they're going to sit and visit now. Ten years ago we went from show to show to show to show, and as soon as they finished showing, they left. People had to run - they didn't watch Groups or visit with the breeders, they didn't visit with the handlers. And now they do, because we're staying in the same spot."
To the other half of the question, he laughed "Clusters! And the worst thing wrong with clusters today, I think is bad judging."
Which led to another question: Do you have any idea about how to correct that? "They've tried everything and I think they need to go back to the old days and just let the judges earn their licenses. I think this testing is for the birds. Anyone can pass a test. I think that the test is out there in the middle of the ring and that's where they've got to go back to."
Would you say the old days of being invited to apply for a license might be something to reconsider? "Oh yeah! I don't think there's an AKC rep out there that doesn't know who should be judging dogs - they really do."
ALISON DEAS became serious, and for a moment, that beautiful smile disappeared. "The friendships you make. The people you meet that have similar interests. Dog people are very supportive, like when people get sick or something is wrong, or when something is good - you always have tons of people around congratulating you or helping you."
What's the worst thing about dog shows? Her thoughtful expression was replaced by a frown. "I don't know whether this is true or not, but it seems to me like there is more bad sportsmanship than there has ever been. There are a lot of young handlers, my age, who act just horrible in the ring. It's bad for novices to see, and it's bad for the judges to have to put up with it. It makes me very angry."
SUSAN WISE was on the run with a Wiemeraner when asked what she considered the best thing about dog shows. With a blank look she said, "Discounting the dogs?"
Yes, what else is good? "Then people. Some of the people that I have met have been very true friends. I wouldn't have traded them for anything."
And the worst thing about dog shows? She laughed "Do I have to? Well then I think the politics and the advertising are getting out of hand. I don't think it is true with every judge, but I do think that the advertising does influence a lot of the judges. There are a lot of them out there that are very fair and judge with their own mind but I do think that advertising certainly influences some of them."
BILL McFADDEN smiled down at me and responded, "Travel, and meeting a lot of people from different walks of life."
And what do you like least about dog shows? "Travel, and meeting a lot of people from different walks of life." (we chucked.) "That's true. You meet a lot of people that you don't necessarily like and you meet a lot of people that you adore. You get to travel to wonderful places, but you also get to travel to the armpits of the universe."
What would you change about the way dog shows are run? "Put more emphasis on the quality of the wins and of the judges and on the quality shows as opposed to just gadzillions of shows and wins."
DAVIN McATEER thought for a long moment, it was obviously a question he would not respond to lightly. Finally he said, "There are certain wins and certain generations of judges that I truly cherish."
Newer judges, older judges? "Older judges. Judges that have been around a long time. Other than the dogs, that is the good part."
Then what do you like least about dog shows today? He frowned. "The quality of the dogs and the quality of the people participating and the way they take care of their dogs. Too many seem to become "involved" in dogs but don't take care of them, it is strictly an ego trip in my opinion. I am not talking about everyone, but unfortunately it gets worse every year."
What can be done? "I don't know. Maybe quality control, somebody has got to get out there and do education and teach people what is good and what is bad. Most people don't know. They are complaining and griping about losing and they don't even know what they have. They don't know if it is a good dog or bad dog, If it is clean or dirty, if it's groomed or if its not; if it's presented well, or even if it is in good condition. Education. It has got to start with education. I have often tried to get with Dorothy Welsh and other people to offer education starting with the junior handlers, to teach people how to take care of dogs. That is the most important thing. Not winning, not losing. It's taking care of the dogs."
But Davin, that's sort of a given, a requirement. "Absolutely. The judges should throw these dogs out of the ring that are dirty. The poor quality. Yeah, you are going to upset people to begin with, but it is not going to get any better until they start withholding and it is kinder in the long run."
Editor's Note: Davin committed suicide in 2008 and having known him since he first began handling, I flashed back to this interview when I heard the tragic news.
We asked these Questions face-to-face but if you would like to respond to them or you have a question you would like us to ask, Contact@TheJudgesPlace.com
TheJudgesPlace.com EST 2005 © http://www.thejudgesplace.com/Exhibitors-view/Best-Worst.asp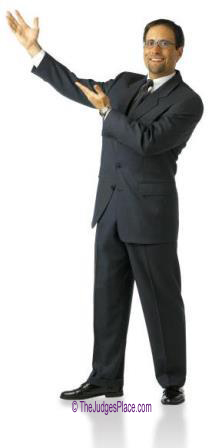 The Ring Steward says "Go back to Exhibitor's View From Ringside!" We invite the judges to learn how their Judging is viewed from ringside. Dog Show Exhibitors, Handler Interviews, Opinions, and Observations shared by those outside the ring.
Courtesy NetPlaces Network, World's First Online Purebred Dog Information
The world's 1st public website (TheDogPlace.org) from Animal Health to Vaccines.
The world's 1st online dog news, (TheDogPress.com) from AKC records to zoological news.
The world's 1st site by/for dog show judges (TheJudgesPlace.com) educates on purebred dogs.