AKC Points Schedule Scam Responses
Questions were raised in "Scamming Dog Show Exhibitors?" so we asked our subscribers what AKC could do to level the playing field and we present some of the best replies below.
1. Should AKC take into consideration that professional handlers travel to areas with points schedules more favorable to their best clients?
2. Does the points-calculation system still serve the best interests of purebred dogs?
3. Are you an owner handler or professional handler and for approximately how long?
4. Are you having a problem finding or traveling to majors?
Tonna Carlo, Castlecove, "I've been showing Afghans, Saluki and Ibizan since 1972 - now Chinese Cresteds since 1992 when accepted by the AKC. I've always been an owner/handler and often breeder/owner/handler. Since the tremendous amount of so-called professional handlers has been overwhelming, the AKC has tried to appease us with the Owner/Handler class and that holds no points. It is we Breeder/Owner/Handlers who are the bread and butter for those professional handlers, yet we do not get the points that are often taken from us by the paid professional. It's time that AKC starts awarding points to us or their bottom line will drop again"
Marti Reed, "While I no longer show, there was a time just a very few years ago that my class bitch could win BOB over specials, and STILL be lucky if she got 2 points. Majors?? Forget it. If we wanted majors, it means driving to another region…or hiring professional handlers. Personally, I LOVED showing my own dogs… but it was so frustrating to not be able to get the majors without driving out of our region… Tell me where the sense is in that??"
Shiba Cheri, "I have all but stopped going to AKC shows in order to finish dogs. I only go to my local AKC breed club specialty and ... CKC/UKC/IABCA ... for fun, to visit with show friends. 1) Pro handlers only special and rarely like to handle class dogs ... however if you NEED a major to finish a dog they may accommodate you… 2) Our regional point schedule is reasonable for us but it's many years since we hosted a national. 3) I'm a breeder/owner handler for 40 years. 4) I refuse to travel specifically for majors… If I REALLY feel the need to finish a dog I would consider a handler..."
Stella Starr said, "I am more convinced than ever that cat shows are more honest and the judges much more capable than dog shows. Cat judges must stand before the competitive audience and not only explain why they put this or that cat first, but show the people point by point so there is no room for excuses. Everyone learns, everyone benefits from each judge's area of expertise and priorities. It is sad that the dog show system allows so much room for dishonesty or from what I can see, for ignorance and disregard for the printed standard."
Shiba Cheri, in response to Stella, "I really like the cat show system. IABCA does something similar but the critique is more private between the judge and the exhibitor. Most breeders know their dog's faults but public critiques would be too stressful for the average pet owner who shows their dogs at IABCA shows even though it would be a priceless learning opportunity for them. It all boils down to the judge's expertise and generosity in the long run no matter which club it is."
Janit Johnson, "Breeder/Owner/Handler for 42 years in KEESHONDEN. Very difficult to find majors without traveling to other divisions. With most (not all) judges so biased a handler can win with most any dog, quality or not, the Breeder Owner Handler (is) often looking at the back side of a less than quality dog only because there is a handler showing it. Presentation and Advertisement has become more important than a quality dog. With so few majors its becoming difficult to finish dogs without using a Pro that can travel. ... seeing more and more people going to UKC Shows."
Marti in response to Janit Johnson, "You are so right. And said it very well."
Tina Chermak, "Yes. Professional Handlers are able to travel more. The points-calculation system does not serve the best interests of purebred dogs. It doesn't make sense to raise the number of dogs when they aren't there. I am an owner/breeder handler for 17 years. My breed - Maltese - is the most difficult to prepare for the ring. I also have Chinese Crested."
Betty Hargis, I am an owner/handler of 35 years. The current system of points does not serve the best interests of purebred dogs. It has become extremely frustrating… taking into account the cost, travel, preference to handlers. Sadly there are fewer and fewer judges who actually judge a dog on true knowledge of the breed. I have had the honor of some very nice wins over big handlers, the judges were older and secure in their decisions and choose the dog not the person and knew the breed standard. The entire AKC system needs an overhaul.."
Andi, "For the first time in 24 years I had to send my dog out with a handler because I had so much trouble finding majors in my state. I had all the points on her except the majors. This doesn't seem right, but the handler travelled many states and knew where the majors were. I think dog shows are getting smaller thus less majors...... This is because expenses are going up to include entry fees, motels and dog charges, etc. I have noticed that some clubs are not having their shows anymore yet there still seem to be plenty of shows, just not plenty of majors..."
Margaret, "This is old news! Read my article on allcitydogs.com and how "The AKC's Lopsided Points System - How it is hurting Norwegian Elkhound Competition in California and Arizona""
Laura, "I am a long-time owner/handler. It has been almost impossible to find majors. The more difficult it becomes, the less owner/handler/breeders show. The professional handlers benefit as they can travel where they have the best chance of winning and getting majors for their clients. It hurts owner/handlers even more when shows are entered and then entry fees and travel costs are lost since dogs needing majors aren't shown and there are no points. We desperately need a "Donald Trump" to lead AKC into the future!"
Peggy, "No, the point system doesn't serve the best interest of purebred dogs. The winner takes all system has driven the "more is better" syndrome (if long coat is good, longer is better. if angulation is good, more is better. Small? tinier is better.) And where does "the dog demanded the ribbon" (showmanship… on the part of the DOG) make for a better dog genetically? I'm an owner/ breeder since the mid-80s and I acknowledge my main focus is performance -- which is the second-class citizen in the AKC program."
Mike, "I don't agree that PH travel to places where it is easier to finish dogs, as the primary job of PH is campaigning specials. In my breed the number of dogs and bitches for a major keep going down, not up. I have been an owner-handler since 1980. It's definitely more difficult to find majors than it used to be years ago, but the number of dogs being shown keeps going down. The number of registered dogs has absolutely nothing to do with the number of dogs competing in conformation."
Emperor Nero, "All of which means that I live in a zero-majors state. (In fact, I don't think there has EVER been a major here in my primary breed.)"
We had some interesting response comments from judges, many of whom echo the sentiments expressed by exhibitors...
TheJudgesPlace.com EST 2005 © Aug. 2019-2210 http://www.thejudgesplace.com/Exhibitors-view/AKC-points-schedule-scam-responses-st19FF08.asp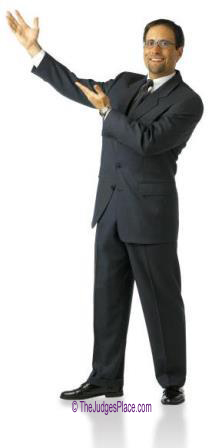 The Ring Steward says "Go back to Exhibitor's View From Ringside!" We invite the judges to learn how their Judging is viewed from ringside. Dog Show Exhibitors, Handler Interviews, Opinions, and Observations shared by those outside the ring.
Courtesy NetPlaces Network, World's First Online Purebred Dog Information
The world's 1st public website (TheDogPlace.org) from Animal Health to Vaccines.
The world's 1st online dog news, (TheDogPress.com) from AKC records to zoological news.
The world's 1st site by/for dog show judges (TheJudgesPlace.com) educates on purebred dogs.