by Barbara J. Andrews Oct 2008
Lina Basquette passed away in October 1994. The movie star, Zigfiled Follies dancer, Great Dane breeder, Pro Handler, and AKC Judge, died in her Wheeling, West Virginia home at age 87. Cancer took her life but not her spirit.
This is personal for me because as some of you know, Lina was my "mother" in dogs. Although she never gave an inch in the ring, she coached me for years. I wasn't the only one. Lina was generous with her knowledge, and at times, her criticism. Even so, we earned each other's respect back in the early seventies. Lina knew I studied her and while she was used to that, she realized that my admiration was genuine and took me under her wing. How I wish everyone in dogs could have someone like Lina as a mentor, although back then the word wasn't in use. I never found her lacking in dog sense but she was full of wisdom beyond her years.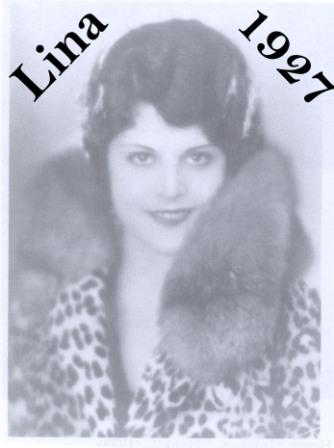 Lina Basquette shared outrageous stories of her personal life. But then Lina was outrageous! Her loves and lovers were many, especially during those Zigfield Follies days. Newspapers of the 1920's and 30's loved her! They gleefully reported her nine marriages and went berserk when she re-married Sam Warner of Warner Brothers Studios. Lina's affairs with celebrities like Jack Dempsey were always newsworthy although I don't think the time Adolph Hitler put the make on her was reported. Perhaps due to the war but she told me and other friends all the juicy details.
Lina Baskette was born in San Mateo, Calif. By age 9 she was under contract to Universal Studios for a series of silent films called "Lena Baskette Featurettes." Her name was changed to reflect her glamour image as a prima ballerina and a star in the Ziegfeld Follies. Although she made many films, her most famous was the lead in "The Godless Girl," Cecil B. DeMille's last silent movie, made in 1929.
Lina loved dogs almost as much as she loved men. For nearly thirty years, she bred top winning Great Danes under the Honey Hollow prefix, living in Bucks County, PA until the late seventies. She authored several books but alas, they are not in my library.
When I was writing for Kennel Review and Canine Chronicle, we talked about doing an interview. Lina always said "Oh honey, let's not hurry through it at shows, 'why don't you come up and see me sometime' batting her eyelashes and affecting the burlesque Queen Mae West's famous line. When she vamped and flirted outrageously with my husband Bill, we laughed together, knowing she was reliving and sharing precious memories with us. We always planned that trip but but we never seemed to coordinate that trip. Lina was away judging or we were showing. We thought there was plenty of time.
She insisted Bill and I come to meet her half-sister, actress and dancer Marge Champion who was spending a week with her. It was a rare weekend when neither of us were at shows. We didn't make that trip either because Bill was very sick by then.
Thank goodness Lina made time to share her life in the book entitled Lina - DeMille's Godless Girl. The autobiography was published in 1990 and my autographed copy is a treasure.
Lina rarely flew to assignments. She and "Special K" drove to shows and she continued to do so as a judge. Lina's driving worried my husband who said he'd rather fly with a blind pilot. She just laughed but always insisted on driving. On the way to dinner one night, she went the wrong way on an exit ramp, swearing profusely as she backed precariously back down the ramp. We worried about her in later years but the road wasn't what took her.
She was never at a loss for words and when irked, she spared none at all. Sitting on a bale of hay at a tiny show in a NC tobacco barn, she blew a puff of smoke from her long brown cigarette and gestured at Jack Funk as he walked by with the OES King Boots. (Before the groups were split, and Boots was Top Working Dog) "Here I am in this arm pit of a show and he shows up! Look around you BJ, there's Houston and Toddie, and Jeff... Humph! Well, they wasted their client's money..."
She won the group that day and went on to Best In Show.
At Indianapolis one year, she said of Tommy Glassford "He may have fast horses but he couldn't run from a fire. My legs are better and so is my dog!" Best was right after Working Group. She and "K" ran circles around Tommy in Group, went straight in to win BIS. She never missing a pirouette and despite heavy smoking (cigarettes were more than a prop for Lina), Lina wasn't even breathing hard as she came out of the ring.
Lina Basquette was always on stage, always the star. She had won the Group at a big show in Indianapolis and ringside was still crowded when she regally entered the BIS ring with Big Kim. There at the front of the Best In Show lineup was a very famous, very tough lady handler whose name I'll leave out as she is now judging.
Head high, Lina walked diagonally across the ring and with a flourish, took the lead position. The other handler looked up, frowned, took her glorious Irish Setter by the ear and marched by Lina to the front of the line. Hand on hip, Lina watched her go by.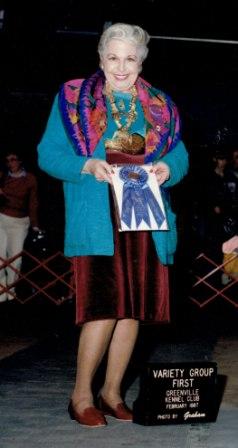 A hush fell over ringside. It was the battle of the Titans. Lina waltzed her Dane back to the front of the line, never glancing at the other handler. The BIS judge sensed the drama. Checking his table, he tactfully kept his back to the ring to let it play out. The other handler watched Lina stack her dog and then she stomped to the front of the line again but by now, she was in the corner! Lina smiled, moved her big boy forward and center and he struck an imperial pose that clearly said GREAT Dane.
The judge turned and pretending not to notice the two handlers separated from the rest of the lineup by fifteen feet of empty space, signaled for the go-around. Who won? To tell you the truth, I don't remember. It doesn't matter. The "show" was over and two of the greatest female handlers of all time had played to an audience of their peers. Memories, never to be forgotten.
As a friend and as a judge, Lina told me Widow-Maker was "sprinkled with stardust" and when a very famous backer wanted to lease him, she and All Breed Judge E.W. Tipton said almost the same thing within a week of each other. Bill talked to Tip who said, "there's still enough of us old guys out there who can find a great dog when he's owner handled." Ironically, the very last thing Tip did was give Widow Maker a huge Working Group win. I had no idea how ill he was until I learned that he had left the show before photos. Carroll James helped him to the car and drove him back to TN. At what I believe was Lina's last show, judging from a wheelchair, she awarded a big east coast Working Group to a mis-marked owner-handled Widow Maker son I bred. The dog went on to become #1 Akita.
Is she gone? I think not. As I write this, Lina Basquette is still pirouetting, still critiquing, still watching the dogs and the people she loved so much. I feel her presence, don't you?
Lina Basquette, Too Little - Too Late
12111508 http://www.thejudgesplace.com/Side/Basquette-Lina-Obit-BJA0810.asp
click to share this article Copyright © ii NetPlaces Network/ TheJudgesPlace.com - All Rights Reserved
| | | |
| --- | --- | --- |
| | If you'd like to be here... | Dog Breeders, Judges, and Handlers Who Shape The Sport! |
Privacy Policy - Disclaimer - Reprints - Limitations or Request Reprint
Explore TheDogPlace.org for more on how dogs can enrich your life.
If you breed or show dogs, get a free subscription to TheDogPress.com