Dozens of judges nominated their peers, expressing amazingly similar reasons for holding them in such high regard. The top nominees for Judging Legend 2016 were Ann Rogers Clark, Joseph Gregory, and Kenneth McDermott.
Voting closed May 8th. Thank you for your vote. Ballots will be tabulated and the new Judging Legend will be announced in TheDogPress.com
Rules: You may only vote ONCE for ONE person by "Clicking Their Name" (below). If you voted last week, the database will not accept a second vote from the same person. If you have not yet voted, this is your final chance.
You selected the Nominees, we selected two comments that best sum up each Candidate.
I Vote for ANN ROGERS CLARK:
I learned a lot from her and try to apply those lessons in my own rings. She knows everyone in the ring but tries to concentrate on what she knows about the breed first. ~ Name withheld by request

Annie did not waste any time finding the best dogs... she was not influenced by the other end of the leash, but looked at the dogs! ~ Lynne Rosebrock - Carroy Irish Wolfhounds
I Vote for JOSEPH (JOE) GREGORY:
(He) is not averse to checking the standard while he is in the ring. He is patient with new exhibitors and dogs ... has fun while he is judging and tries to make the show experience fun and pleasant for each exhibitor. Owner-handlers and professionals are equal in his ring. Love showing to this judge, even when I don't win! ~ Memory Armstrong - ScarletOak Great Danes

The judge who, in my opinion, epitomizes the sport of purebred dogs would be Joe Gregory. He clearly loves to judge, loves the dogs and is always kind to them and courteous to the exhibitors. I would show to Joe Gregory always!! ~ Mary Ann Leonard - Sastya Gordon Setters
I Vote for KENNETH MCDERMOTT:
I think that Kenneth McDermott is one of the finest judges that I have encountered. He knows what the Standard for the breed requires. His judging is honest and fair and he goes out of his way to be helpful to exhibitors. ~ Caryl Alten - Carden Scots

He is a thoughtful judge, takes his time and good with the dogs. Even when he gets it wrong, it is okay and we go back to him again ~ Sandy Green - GSD
There were many other judges who recieved dozens of nominations-votes. The web staff say "thank you" and "it looks like there's a lot of good judges out there so can the gripes."
#1704 http://www.thejudgesplace.com/Meet/Legend-2016-VOTE.asp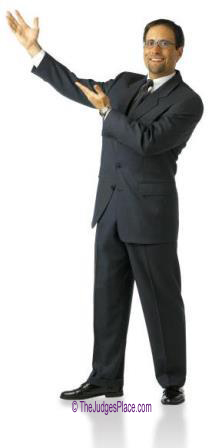 We invite you to Read interviews with previous Nominees, Judging Legends, and other great names in the sport. As you attend shows this year, make mental notes about who you will nominate next year!
The Ring Steward says "You can now go back to Meet The Judges!"
click to share this article Copyright © ii NetPlaces Network/ TheJudgesPlace.com - All Rights Reserved
| | | |
| --- | --- | --- |
| | If you'd like to be here... | Dog Breeders, Judges, and Handlers Who Shape The Sport! |
Privacy Policy - Disclaimer - Reprints - Limitations or Request Reprint
Explore TheDogPlace.org for more on how dogs can enrich your life.
If you breed or show dogs, get a free subscription to TheDogPress.com