Dateline Feb. 2009 by Fran Milteer/Staff
There are more husband and wife judging teams today than in the past, a tribute to our love for dogs and the sport. As the children grow up and start their own exciting lives, many parents find time for judging careers as a shared activity and service to the sport.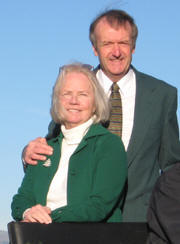 Meet Carolyn and David Alexander, both of whom are familiar with the other side of the ring as well as they have been breeding and exhibiting Bull Terriers under the Brigadoon prefix for nearly 30 years. Theirs is a careful, conservative breeding program that promotes beautiful, healthy Bull Terriers known for their wonderful temperaments and sound minds in sound bodies.

The Alexanders are long time members of the Bull Terrier Club of America, Barbary Coast BTC, Golden State BTC, Monterey Bay BTC, American Dog Show Judges, local kennel clubs and ADOA.

David has served as Bull Terrier Club Of America (BTCA) Treasurer and Genetics Chair for the BTCA Welfare Foundation. They are also long time volunteers and advocates for the Monterey County SPCA, and life members of the SPCA Auxiliary.

Carolyn is the Bull Terrier columnist for the AKC Gazette, Newsletter Editor for MBBTC, and Rescue Chair for MBBTC. She has also published BULL TERRIERS - A Complete Pet Owner's Manual, which is part of Barron's educational series available at Barron's and most book sellers.

Carolyn judges the Working Group, Bull Terriers, Miniature Bull Terriers, Best In Show, Conformation - Misc Breeds, Junior Showmanship - All Breeds and is in process of applying for some Toy breeds.

David judges the Terrier Group, Manchester Terriers (Toy), Best In Show, Conformation - Misc Breeds and is in process of applying for some Non Sporting breeds.

First we wanted to know how being judges affects them as a married duo and as judges. We then asked them individual questions about judging and it was a fascinating interview!

Since you are both judges we would like to know how this affects your relationship.
(David) "It has a very positive effect on our relationship. We enjoy discussing dogs, and are supportive of each others' efforts. It's very useful to be able to have frank discussions about dogs when you can trust the other person implicitly. We don't see everything exactly the same, but discussing things introduces perspectives that you might not otherwise encounter."
(Carolyn) "It's great! We're both very involved with dogs and dog shows and love sharing our experiences."

Do you travel together?
(David) "We like traveling together and now that I am retired we do that as much as we can. However, when only one of us is judging, the other very often has to stay home and take care of our dogs. Since we live in the country, we have somewhat limited availability of house sitters, but we usually manage."
(Carolyn) "Traveling together means we can sometimes add an extra day or two at our expense so we can see a little of the area. We're celebrating our 30th anniversary this year and we really enjoy each others' company. We are also independent enough to manage separate travel quite comfortably but being together is always better!"

Do you judge in the same places?
(David) "We have not judged a lot at the same shows, but this is often an attractive option for clubs since they save a little on hotel and transportation costs."
(Carolyn) "It varies. If an overseas assignment and we are not both judging, we both go anyway. We love going to new places and meeting new people, and we are excellent travelers. We tend to be very positive and flexible."

Please tell us what countries you have judged in and a little about the assignments?
"We have judged throughout the United States, in Canada, Holland, Scotland, Taiwan, China, Russia, Australia, and New Zealand. We have judged many times in China and several times in France, including judging the French National outside Paris. We have just been invited to judge in South Africa, joining the panel which will decide which dogs represent South Africa at AKC/Eukanuba."

United Kingdom: I have judged the BT specialty in Scotland and Mini Bulls, Lakeland and Manchester Terriers in the UK. Carolyn has judged a BT Championship show in England. Her entry was of extremely high quality, and many high quality dogs win nothing as there is only one CC winner in each sex (champions compete with non champions in UK). I have also judged Mini BT's, Lakelands, and Manchesters in England. My Manchester winner was the best example of the breed I have ever seen.

Russia: I judged an AmStaff Specialty (over a 100 entered) in Moscow in 2007 and the dogs were of high quality and all had wonderful temperaments. I also judged other terriers there including Lakeland, Skyes, and Yorkshire Terriers (they are part of the Terrier Group in FCI countries). You have to critique each dog at FCI shows, so it's a long day. I judged these other terriers for Interra, which is an international terrier organization that has one show per year that moves from country to country.

China: We have both judged in China where we are asked to judge all breeds. Thus far, there is no national organizing body there, so the shows are put on by regional all breed clubs. Usually there are only three classes for each breed / sex, those being Baby, Junior, and Open. Each class winner goes forward to compete against the other breeds for Group and BIS wins (e.g. Baby Group and Baby BIS). Some breeds are of very high quality (usually dogs imported from the USA or elsewhere), whereas others are of very poor quality. You can judge well over 200 dogs in a day, and entries are taken up to the last minute, so you never know which breeds you are judging, or how many, until they appear in the ring. Everyone wants a photo, so you can stand there for a couple of hours after judging while they take them.

France: We judged a Bull Breeds show where the only breeds were Bull Terriers, Mini BT's, AmStaffs and Staffies. Dogs were entered from various countries e.g. from Spain, Holland and Belgium as well as France. The organization of the show was quite casual, as the timing is very flexible in France (which is also true of the regular shows). We also judged at the French National just outside Paris. Carolyn judged the BT Specialty, and I judged AmStaff bitches (as there were too many entered to judge both sexes). With the other judge who did the males, I then judged the BOB.

Holland: We judged BT's at the 70th Anniversary Show of the Dutch BT Club. Again, because of the size of the entry and the need to do critiques, Carolyn judged the bitches and I judged the males. We then jointly picked the BIS. This show was run in conjunction with a new format of international team competition. Various European countries were asked to enter their best dogs in various classes, and a panel of judges awarded points (e.g. 12 points to the first, 11 to the second, etc) in each class, and the results tallied up across all classes. Competition was quite fierce!

Australia and New Zealand: These were BT Specialties similar to what we have in the USA. The entries were quite large (more than we have here) and the quality was quite high. We judged Mini BT's at these same shows, and each class winner from the BT and Mini BT sections compete against each other for best in show for each class. Quite unique. The standards usually won as they were in general of better quality. The Minis tend to be quite large (most call them Midis) due to the stud book being open and the Minis being bred to Standards (to help alleviate some genetic problems).

---
click to share this article Copyright © ii NetPlaces Network/ TheJudgesPlace.com - All Rights Reserved