Part 2 by Judge Anne Keiffer
Tail Photo Examples and COMMENTS welcome below.
DOCKED TAIL HISTORY, continued from page one
The TFT's tail has never served a useful purpose; example Labrador retriever tails used as rudders. The natural toy fox terrier tail has a wide range of lengths and widths with very little control over them as they were never developed for obvious safety and practical reasons.
What are judges most likely going to see with natural tails in the conformation ring for this breed?
| | |
| --- | --- |
| This tail should not be rewarded. Docking this tail would have prevented the appearance of this toy fox terrier from giving any Spitz breed a run for best tail. | (example of correct natural tail) |
Breeder Viewpoint: What should breeders do when confronted with requests to leave tails undocked? Breeders should keep in mind the breed history, the breed standard, and whether they wish to allow animal rights activists and foreign countries to dictate to them how their breeding programs should be managed.
We, as breeders, should ask ourselves if "personal preferences" or making a sale to foreign buyers should ever override the importance of preserving the history of the breed or the rights of American breeders to maintain the American breed standard!
No studies have been performed to determine the number of injuries to the longer natural tails for the Toy Fox Terrier have been performed to date. If your breed club has statistics or a study showing frequency or severity of injury in long tailed or undocked dogs, please send them to editor.
The United Kennel Club (UKC) is the original registry for the Toy Fox Terrier. The requirements for the tail are specific, stating in part "Docked with approximately 2/5th of the full tail remaining; equivalent length if a bobtail. Minimum length about one inch, maximum length about three inches, for dogs six months of age or older…. Serious Faults: Tail curled. Tail carried straight over the back. Set too low… Faults: Too short. Too long. Not carried gaily when in motion."
The American Kennel Club (AKC) recognized the Toy Fox Terrier in 2003. The standard states "The tail is set high, held erect and in proportion to the size of the dog. Docked to the 3rd or 4th joint."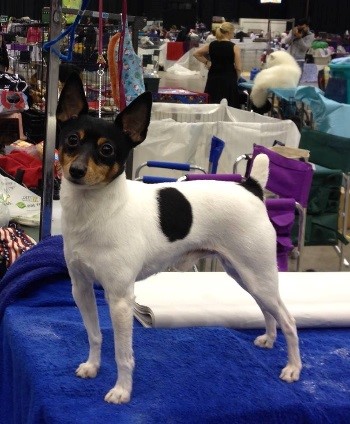 Example of correct tail length, carried erect, with no curve to tail.
Both the AKC standard and the UKC standard for the Toy Fox Terrier clearly support docking the tail. When exhibiting in the conformation ring, the strict adherence to the standard is of upmost importance as the history of every breed is at stake every time a judge points to someone and hands them a ribbon.
Tail Docking Conclusion: Keeping in mind breed history, type, and function, "natural" tails should be closely scrutinized according to each breed's standard when judging in the conformation ring. Naysayers will say the tail is unimportant and shouldn't affect how a docked breed is judged. After all, good judges shouldn't be distracted by inconsequential issues such as natural tails, ears, coat color faults, etc. This mindset leads to subtle and even drastic changes to the appearance and functionality of a breed as well as to the loss of rights American breeders have long enjoyed.
The concerns and issues of foreign countries should never dictate what happens in the American conformation ring. The countries with tail docking and ear cropping bans rarely have a quid pro relationship with the United States. In other words, if those countries import a docked breed from the USA, it can't be shown. Yet the USA seems more than willing to accommodate imported dogs shown with natural tails. Money? Philosophical change? Razzle and dazzle of something new and imported? No breed should have to face these questions and particularly the Toy Fox Terrier as it is a 100% all American breed.
What is your position on awarding undocked or uncropped dogs that have breed standards describing the cropped ear or docked tail? We would appreciate feedback on judging your cropped and/or docked breed.
Click to read Docked Tail History - Part One
Please type your name, type your comment, and then click the "comment" button. To show your post, click refresh or F5 to view your posted comment. Pressing the "comment" button more than once will duplicate your post.
Reference Information on the Toy Fox Terrier: American Toy Fox Terrier Club Breed Standard ~ National Toy Fox Terrier Breed Standard
The Council of Docked Breeds (UK) 1991/2010©) ~ More information on Cropping and Docking History, by AKC Judge Lanting.
The world's 1st public web-site (TheDogPlace.org) from Animal Health to Vaccines.
The world's 1st online dog-news, (TheDogPress.com) covers AKC records, politics, people and shows.
The world's 1st site by and for dog show judges (TheJudgesPlace.com) educates everyone on quality purebreds.